Star tracks: Signposts for wannabes
Not only in mega metros like Mumbai, but also in smaller cities and towns, Indian women are beginning to enjoy noticeable freedom of movement. They live alone or in groups, they attend parties or other functions without a man in tow and walk, drive or use public transport without fear in spite of sporadic cases of harassment and violence, writes Vimla Patil
| | |
| --- | --- |
| Smriti Malhotra: She took a loan from her father and worked in McDonald's to try her luck in serials | Sakshi Tanwar: From a middle class family in Alwar to living alone in Bombay was eventful |
CELEBRITY women sometimes unwittingly set trends for other women to follow. The tidal wave of new actresses and models in the film, television and fashion industries, which has landed up in Mumbai in recent years, has illustrated to millions of ordinary women how they too can live alone and navigate their careers towards success. Take the example of Sakshi Tanwar, the popular Parvati Bhabi of Kahani Ghar Ghar Ki on Star Plus. Sakshi, who is in her mid-twenties, comes from a middle class family living in small town Alwar in Rajasthan. "My conservative parents could not believe me when I said that I wished to come to Mumbai in search of a place in the television industry. In fact, I was diffident too. I was ready to return home when Ekta Kapoor of Balaji Telefilms called me back from the airport to take the role of Parvati Bhabi. I was hesitant because it is the part of a mother in her thirties. But I took the jump and the rest is history. I have lived alone in Mumbai for years now.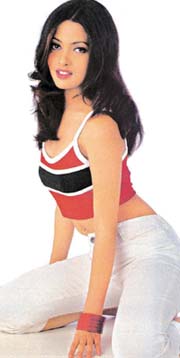 Ria Sen: Lucky to have a home in Bombay, travelling alone in buses was a unique experience.
It is often a practice with new television entrants to rent small suburban flats together so that their contribution to the rent does not make a large hole in their young pockets. The rent of our flat was Rs 30,000 and several of us shared it. We cooked together or ate out most of the time. I travelled to my worksite alone and never felt insecure. Mumbai is a safe city and understands that women will live or travel alone for work or pleasure!"
The story of the glamorous Riya Sen is no different. Coming from a wealthy, prominent Calcutta family, Riya had a family home in Mumbai to live in when she came in search of a course in fashion designing and a career in modelling or films. However, she too had to travel alone in public transport at all hours and get used to Mumbai's fast-track life at a young age. She feels that Mumbai is a safe city for single women because people here accept that women will work and have independent lives. Dipanita Sharma, a model and film star, who came to Mumbai from Assam in search of glamour, also thinks that Mumbai is a haven for ambitious single working women. She entered the Miss India Contest in 1998 and stayed on to work here. She lives alone and is today one of the most sought after models and actresses. "I stayed as a paying guest first and then shared a flat with Bipasha Basu. Now I have my own flat," she says.
VJ Ruby Bhatia and actress Smriti Malhotra Irani have both tasted this freedom in Mumbai. Ruby came to Mumbai in 1994 after winning the Miss India Canada title and won fame as Channel V's top veejay. She too lived in paying guest accommodation till she could buy her own flat in suburban Mumbai. Smriti came from Delhi, taking a loan from her father. She worked in McDonalds to sustain herself till the Miss India show gave her an opportunity to work in television.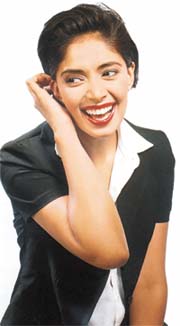 Ruby Bhatia: This Miss India Canada came to tinsel town in 1994 and had to slog it out to find a niche.
These are only visible examples of women living alone and working successfully in India. There are numerous others in all cities of India, who live in digs in groups or company bachelor pads with colleagues when they take corporate or government jobs away from home. Women have no inhibitions in taking jobs or assignments away from their family residences. A look at the flights of almost all domestic airlines shows that thousands of women of all ages travel alone for professional or corporate work and confidently live in hotels or guest-houses. This freedom is not limited to working life alone. Several travel agents now offer special tours for women who get together in friendly groups to visit fun destinations for leisure and adventure travelling. Within cities and towns, college students, married women, working women and elderly women go for walks, to work, to entertainment centres, for shopping and for friendly social visits without fear or a sense of insecurity.
It is reported that following the example of women in the metros, small town women too are venturing out from their homes till late hours. The scenario in even conservative-until-now towns in Uttar Pradesh, Haryana, Punjab, Madhya Pradesh, Rajasthan, Bihar and all South Indian states has changed dramatically. The visibility of women throughout the day and even at night in markets, in restaurants, in cinema halls, not to mention at workplaces of all kinds, has increased throughout India. There are several reasons for this brand new wave of confidence generated among Indian women:
Reasons for change
The media — specifically television — has helped to increase the self-confidence of women. Television programmes, whether news or entertainment, constantly project images of women handling authoritative position in the family and outside. They take decisions, right or wrong, and express the spirit of their freedom with a sense of pride. Many women characters are shown as evil persons with criminal intent. But none are shown scared to lead their own lives as independent, thinking people capable of taking action.
Rapid urbanisation in India has made women realise their inherent power. Urbanisation brings population movement, access to education and knowledge and exposure to peers whose collective thinking influences all. In small-town India, more women from the burgeoning middle class are in schools and colleges and a large number among them are seeking careers because they see the wonders women can create when they are financially self reliant.
They have thousands of icons to follow today. The role NGOs working for women's empowerment throughout India must also be acknowledged here. Their support, their projects and networking connectivity are responsible for creating a bold new awareness of freedom among women. They know that they are no more alone in their demand for safety and security. Notwithstanding sexual harassment and second-class treatment meted out to women in India, the struggle of women to hold their heads high and be secure in Indian society is gaining countrywide support.
Education and continuing efforts of governmental and voluntary agencies have made more women that ever before aware of their legal and political rights. They are somehow aware what they have to do in case of sexual harassment or ill treatment by their families.
The attitude that domestic violence or workplace harassment of a woman is a private affair and others need not pay heed to such instances is now changing. There are many voluntary organisations which are willing to take up cudgels on behalf of victims. Government agencies too, are more open to taking quick action under the pressure of women's movement groups. Most women are aware of such groups and do not hesitate to take help whenever they need it.
More women than ever before now know the power of earning and being self-reliant. Money and the power it gives is a new gateway, which has offered new options and opportunities for women. Few people would know that among all nations of the world, India has the second highest number of women entrepreneurs who work in every kind of business ranging from IT industries to household catering. These entrepreneurs are spread over all states beginning with Arunachal Pradesh and Meghalaya to Kerala and Tamil Nadu. Such women know that the government is supportive of their dreams and provides training as well as finance for their endeavours. Working and earning brings women into close contact with each other.
This connectivity has taught them that they are not each other's enemies as they have been traditionally portrayed earlier. Indeed, they are now willing to play mentors to each other and create a network of like-minded people who nurture each other's ambitions and work options.
No longer to middle class families in Indian cities or towns see mothers, wives or daughters as kitchen maids who must 'obey' their men and lead cloistered lives. The family is opening up and flowering as an institution. The result is that it cradles and nurtures women's ambitions and freedom.
Even in small towns and villages, women are seen to take actions and attitudes, which are different from those of their mothers. They are freer individuals, who expect security from their families and society. They demand the right to design their own lives in a safe and supportive environment.