Tubewells, drilling for deep trouble
Peeyush Agnihotri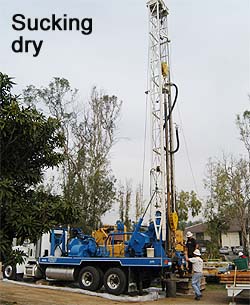 THE recent spurt in the shifting from shallow to deep tubewells by farmers of the region may have been caused by the greed for more water in the eighties, which virtually dried up the upper layer of earth.
Merely 57 per cent of the area was covered by tubewell irrigation two decades ago. Post-2000, when 75 per cent of Punjab is tubewell irrigated, deep tubewells have become an agrarian necessity given the way the static water level (SWL) is falling.
The water table is hurtling down not by centimetres or inches but, hold your breath, metres! And this is making the municipal councils scared, geologists tense and farmers petrified.
Plummeting water table
The water level was 12 m in Jattpur village, Balachaur block, in 1996. It is 20 m now. Similarly the level was 14 m in Takhatgarh village of the same block in 1992. It is 18 m at present. Hassanpur village, Derabassi block, has a current SWL of 60 m. It was 36 m 10 years ago.
Mr Gurdarshan Singh of Gurnam Singh and Company, an international-level drilling company, says: "We have been in this trade since long. To ensure good water discharge, we have to dig 300 to 375 m in Derabassi block. Earlier, 120 m of drilling used to be sufficient." He says that the water level is going down by 3 m in Derabassi and by 2 m in Chandigarh annually.
If this alarms you, listen to what Central Ground Water Board (CGWB) experts have to say. According to Mr D.S. Saini, Director, CGWB, Chandigarh, the water level has gone down by 40 m in Lalru, 30 m in Chandigarh and 40 meters in Derabassi. "A detailed report is in the offing," says a pragmatic Mr Saini. Already, four tubewells in Manimajra, a town under the Chandigarh Administration, have dried up and the level in a number of other wells has gone down.
Deep tubewells
Rampant drilling of deep tubewells is a menace and installing a deep tubewell where a shallow one may suffice, amounts to compounding the danger. Hydrogeologists rue that more than the rampant drilling, it is the sheer thoughtlessness that is the more scary part. Citing an example from a village in Fatehgarh Sahib district, experts from the Punjab State Tubewell Corporation point out that a shallow tubewell with 20 m of tapped water-bearing zone could have achieved the purpose of drinking water supply. But the agencies drilled till 275 m and tapped 65 m of aquiferous zone to achieve their objective. "This is like using a cannon to kill a fly. Totally absurd," says a geophysicist.
According to a study conducted by a noted PAU agricultural economist, Dr Joginder Singh, as reported in media, only 3.12 million hectare-metre good quality water is available against a requirement of 4.90 million hectare-metre. The study further notes that the water table in the "sweet water" region of the state, which includes Ludhiana, Jalandhar, Kapurthala, Patiala and parts of Sangrur districts, fell at an average rate of 0.2 m per annum between 1979 and 1991. "The water table may go down to such an extent that lifting water to the surface would require heavy capital investment in the form of high-power electric motors or submersible pumps," says the report.
"In the Kandi area, deep tubewells have become a necessity because of non-availability of aquifers. Most of this area has a perched water table. Shallow tubewells dug to tap 15-20 m of water are not-sustainable because of the lensoid nature of aquifers," says Prof. K.P. Singh, an eminent hydrogeologist who also has an Indo-Swedish project on Punjab groundwater to his credit. (Perched water table is a relatively small groundwater body lying above the general groundwater body.)
White, grey & dark
The National Environmental Engineering Research Institute (NEERI) has reported that nine Indian states (Punjab and Haryana included) are now running major water deficits. Similarly, a World Bank study warns, "Six of India's 20 major river basins have less than 1,000 cubic m per year, with localised shortages endemic in all."
The problem is of a dangerous level in Punjab, and the 1 million tubewells in the state are only compounding it. Punjab, which is divided into 138 hydrogeological blocks, already has 61 per cent of them categorised as dark zones that are over-exploited. Out of the rest, 14 blocks (10 per cent of them) fall under the grey-zone category, where the groundwater exploitation is almost equivalent to the recharge. This leaves just 30 per cent of the area categorised in the white zone, where recharge is more than the exploitation. On the face of it, the scenario may not seem to be very alarming, but one has to keep in mind that most of the white zone is areas where water has never been exploited because of its brackish and non-potable nature (south-west Punjab and parts of the Kandi belt).
Drilling a deep tubewell where a shallow one may do, faulty drilling, deep drilling by private drillers with a 'vested' interest, or drilling for the sake of getting more water — every excuse to drill a tubewell is contributing towards groundwater depletion. And if this water table drop continues at the current rate, soon we might well be adding a new item on our ration card — a drop of water.