Indian seamers provide a ray of hope
Gopal Sharma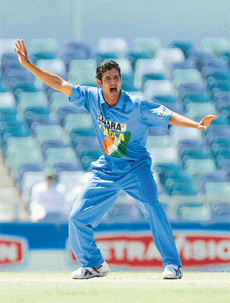 Irfan Pathan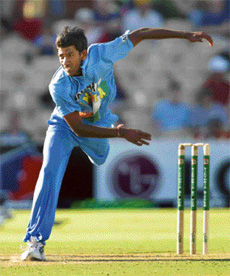 Laxmipathi Balaji
INDIA never had it so good as far as pace bowling was concerned. At best, the country had a lone pacer, good enough to match the best in the business with little or no support from the other end. Peerless Kapil Dev virtually ploughed a lonely furrow though a host of seamers shared the red cherry with him. After Kapil quit cricket, Javagal Srinath took over as the leading new ball bowler of India. He shared the new ball with many seamers for over a decade, without the benefit of a durable partner, except for the period when Venkatesh Prasad was around. Bowling long spells on placid tracks at home, he started showing signs of wear and tear sooner than expected. After Srinath called it a day, Zaheer Khan looked the logical choice to take over as the pace spearhead, but without the benefit of a steady partner. Though pacers like Ajit Agarkar and Ashish Nehra, at times, also did well, they lacked consistency, the most crucial factor at this level of the game.
The long and arduous series Down Under has provided a fresh ray of hope that if they are groomed properly, the perennial drought of quick bowlers that the country faced for so long can well be a thing of the past. Irfan Pathan is already being touted as the find of the series, while Laxmipathi Balaji impressed all with his consistency and accuracy.
Ironically, the two seamers would have had to cool their heels on the benches had there be no injury problem to the first-choice seamers or had Srinath been around!
But by a sudden quirk of fate, they were not only blooded into the team, but also regularly shared the new ball with a fair degree of success. If India returned from Australia with their reputation enhanced, equal credit goes to Pathan and Balaji. Pathan claimed the wicket of Mathew Hayden off a delivery that deviated out to the left-hander kissing his blade before being caught behind in his third over of the debut Test at Adelaide. When he took the wicket of skipper Steve Waugh and then Adam Gilchrist in quick succession with a stinging yorker that curled in to the left-hander in the Sydney Test, the energetic 19-year-old swing bowler virtually announced his arrival on the international stage. Pathan capped his wonderful performance with a four-wicket haul against Zimbabwe at Perth, which fetched him his maiden 'man of the match' award.
Balaji showed improvement with each game. Initial anxiety over and nerves settled, he showed remarkable character and skill while bowling to destructive batsmen like Hayden and Gilchrist and did not let the team down.
"Balaji and Pathan represent the new generation of pacers in India," former captain Kapil Dev said, adding that the new breed of bowlers were talented and mature in their approach
"The biggest change in India for the last one-odd year is that we have learnt to depend on our pacers. This is a big thing. Even a few years back we were largely dependent on spin attack. But now we are depending on pace bowlers, which is very heartening," gushed Kapil Dev, India's 'cricketer of the century', after watching the performance of the promising duo and others.
Zaheer was at his best in the first Test a Melbourne. Bowling at brisk pace and getting the ball to deviate, he plotted an unexpected Australian batting collapse and won plaudits from no less a person than Steve Waugh, who said that Zaheer had it in him to be up their among the best in the world.
Ajit Agarkar did justice to his talent at last in the Adelaide Test. Agarkar, who made a sensational start to his international career, taking fastest 50 wickets in one-day matches, cleverly exploited the extravagance of the Australian batsmen. Notching up his career-best haul of six wickets, Agarkar firmly put India on course to a historic victory. The enigmatic seamer proved that if he bowls with his mind and does not try to outdo, he can serve the country for long.
So much was expected from Nehra, particularly after his creditable performance in the World Cup in South Africa. But the left-arm pacer looked woefully out of sorts and largely struggled throughout the series. A fully fit Nehra, when in rhythm, can be more than handful as he proved in the World Cup game against England. The left-handed seamer claimed six wickets, scripting a crucial victory for India.
Ever since he was spotted by Dennis Lillee, Munaf Patel, who played for India "A" last year even before playing a Ranji Trophy match, is already being talked about as latest pace sensation.
"He could have felled a batsman had he been playing here," said Chandarkant Pandit, former India wicketkeeper and coach of Mumbai, referring to the 22-year-old Patel during a Ranji Trophy match against Punjab being played in dense fog and chilly weather conditions at the PCAStadium in Mohali. Pandit revealed that Patel had the ability to generate pace and get the ball to bounce awkwardly due to his height. Munaf is being rated as the fastest bowler in India.
"It all depends on how quickly he is able to pick up the finer points of the game," Pandit replied when asked how much time Munaf would need to be good enough to play for the country. The 6 feet 3 inch Patel has been an integral part of India "A" squad and taking wickets.
Avishkar Salvi and Amit Bhandari are the other seamers, who have done well enough in domestic cricket and can be counted among the clutch of promising seamers who could be groomed to play at the highest level.
Yograj Singh, former India pacer, emphasised on the need for the current crop of pacers to follow a strict schedule designed to make them physically stronger. As quick bowling resources are scarce in the country, a bowling coach on a regular basis is needed to iron out flaws in their bowling technique.
"They should take the right type of diet and be regular at the gymnasium for strenuous workouts. Their progress should be monitored round the clock to ensure that there are no distractions," Yograj said.
"Look at the physique of McGrath, Akhtar, Lee and Gillespie. A fast bowler would be more effective if he is physically strong and is a good athlete.
"Ajit Agarkar is a talented seamer. But he is so lean. Somebody should take charge of the youngster and work on improving his physique," he observed.
Pakistan has summoned Imran Khan and Wasim Akram to help out their fast bowling attack, which boasts of some of the fastest and the most talented bowlers in the game. It was this attack which New Zealand batsmen found too hot to handle recently even in their own den. One wonders what prevents the BCCI from appointing a bowling coach to give vital inputs to the Indian seamers, who are in the process of finding their feet at this level of the game?