BODY&MIND
Time to know your herbs better
Tripti Nath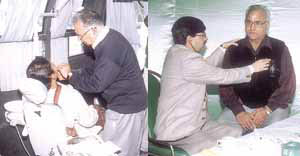 Dr J. L. Paul, dental practitioner, and Dr Dinesh Singh, Head, Department of Radiation Oncology, Dharamshila Cancer Hospital & Research Centre, examining patients at a health camp in the Capital.
The Indian Council of Medical Research (ICMR) has made an earnest attempt towards satisfying curiosity about Indian medicinal plants by publishing three volumes titled 'Reviews on Indian Medicinal Plants.
Experts in ICMR's Medicinal Plant Unit point out that the global resurgence of interest in such plants has led to enormous scientific research on multidisciplinary aspects. This scientific data is widely scattered in various scientific publications. The project is therefore aimed at consolidating the work done on 600 wonder plants in various institutions and laboratories.
The information has been presented in the form of review monographs. Each monograph mentions regional names of each plant, its Sanskrit synonym and ayurvedic description (wherever available), ethnobotanical studies and details of botanical, pharmacognostical, chemical, pharmacological and clinical data and colour photographs of important medicinal plants. The ICMR is confident that the monographs would be useful for scientific bodies, regulatory authorities, policy makers, herbal industry and other organisations engaged in the development, assessment and registration of such products.
Californian prunes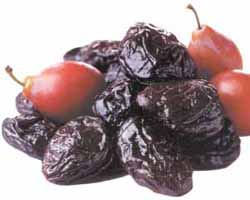 After Californian almonds, it is the turn of Californian prunes to make an entry into the Indian market. Introduced as the 'health fruit for today' by the California Prune Board, prunes have numerous health benefits. One of the best available natural laxative, prunes help in bowel movement and are an antidote to constipation.
The Board claims that California prunes lower plasma cholesterol concentration, fight coronary heart disease, prevent hypertension and stroke, build healthier and are useful for women during pregnancy and nursing.
Sumit Saran, India representative of California Prune Board, says that although prunes were always being imported, the main goal of the California Prune Board is to create a demand in India. "The California Prune Board, the representative body of growers, packers and shippers from California, has been looking at the Indian market for its prunes for four years now."
Saran says that most health conscious markets are importing prunes and the most convincing example is Japan, which imports close to 15,000 tonnes of prunes every year.
Apart from promotional campaigns, Mr Saran is tapping the market potential by selling prunes through various retail outlets and distributors. He plans to continue his efforts of positioning prunes in the traditional dry fruit basket during the festive season. The California Prune Board will also be represented at Ahaar being organised by the India Trade Promotion Organisation at Pragati Maidan from March 11 to 15.
"During a promotion campaign in Chandigarh and Ludhiana, we found that most women who had travelled abroad had purchased plums in bulk because of their dietary fibre property. We are trying to position prunes as lifestyle product through retail and consumer packs and add it as an ingredient in basic Indian cooking. We have tied up with Sugar n' Spice and they are selling prune cakes at all their outlets."
The California Prune Board also gives a recipe book during promotional campaigns. The recipes have been developed by Chef Shaju Zacharia, Corporate Executive Chef, DLF Golf & Country Club, Gurgaon. Although, prunes play a significant role in European, Mediterranean and other Asian cuisine, Chef Zacharia has used them in traditional Indian dishes to present California prune koftas, California prune bharwan tandoori aloo, California prune aur gajjar ka halwa and California prune kulfi with coulis.
Robotic surgery
Dr Randalph W. Chitwood, Director, North Carolina Cardiovascular Disease Institute, will perform India's first robotic endoscopic mitral valve surgery using the da Vinci surgical system at Escorts Heart Institute and Research Centre here on Sunday.
Dr Naresh Trehan, Executive Director, says, "For many surgical procedures, the choice across the world has now shifted from traditional open heart surgery to use of less invasive means. These minimally invasive alternatives usually result in a reduction in pain, scarring and recovery time for the patients and decreased health care costs."
According to Mr Anil Maini, Head, Marketing, Escorts Healthcare Business, the surgeon is in full control of the console in this robot assisted surgery. "It has a definite edge over open heart surgery as there is no blood loss by way of cutting open the chest and the patient can go back home within four days. This is the second category of robotic surgery being offered by EHIRC. In the last one year, EHIRC has done 120 robotic endoscopic Coronary Artery Bypass Grafting. The surgery will be telecast live for the benefit of doctors participating in the 50th golden jubilee meeting of Indian Association of Cardio Thoracic Surgery at the India Habitat Centre.
Health camp
A large number of people living in and around Jhilmil Colony attended a health check-up camp organised by Lions Club Delhi Preet Vihar recently. The camp provided the public an opportunity to avail themselves of a free oncological, cardiological, dental and dermatological consultation. Doctors who offered their advice were Dr Dinesh Singh, Head of the Department of Radiation Oncologist at Dharamshila Cancer Hospital and Research Centre, Dr Mohan Bhagai and Dr Vohra from Malhotra Heart Institute, Dr J.L. Paul and Dr Maurya Paul, private dental practitioners and Dr Monika Garg, skin specialist.