Why the outsourcing hungama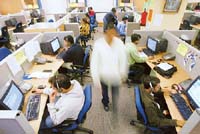 Chanchal. K. Sharma
THE most puzzling and thorniest issue that has generated heat in the American politics resulting in worldwide debate is the swelling up of the 'offshore outsourcing phenomena' across the globe. The Business Process Outsourcing (BPO), as it is called, is not a new phenomenon. Rochester, a New York-based company, for instance, has been outsourcing payroll processing for small businesses since 1971. Thus the process itself is not new but with communication technology (especially the Internet) lending itself to the BPO process, a new phase seems to have begun.
Contactless credit cards
Deepak Bagai
CREDIT cards have penetrated the grassroots of modern economy and given a boost to the concept of plastic money. The account information is stored on a magnetic strip, which is swiped by the card reader when a transaction takes place. The traditional method involves the handing over of the plastic, to the retailer, by the customer for card swiping and the corresponding approval from the bank. The receipt generation process follows this.
A step towards being 3G
Parteek Bhatia
GPRS (General Packet Radio Service) is a step between GSM (Global System for Mobile Communications) and 3G cellular networks. GPRS offers faster data transmission via a GSM network within a range 9.6 KB to 115 KB. This new technology makes it possible for users to make telephone calls and transmit data at the same time.
IT WIT
by Sandeep Joshi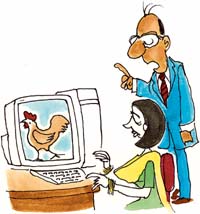 You never know what MyDoom and bird flu may mutate into.


Cell security!
Amardeep Gupta
WIRELESS communications, which is the use of cordless and cellular phones, has grown by leaps and bounds in the past 10 years and become a booming $ 11 billion market. Unfortunately, it has also led to a huge security problem, since the radio signals transmitted and received by these devices can easily be intercepted, compromised and exploited. By 2004 there would be an estimated 1.5 billion cellphones around the world.

Predicament for electronic producers as prices plummet
N. Layne & D. Wakabayashi
THE biggest surge in demand for consumer electronics since the early days of the PC hinges on a group of products being called the "3-Ds": digital cameras, DVD recorders and display panels for flat televisions.

Teeing off from PC
GOLFERS seeking a drink on course will no longer have to send their caddy to fetch it. Soon, they will just have to send a message from a computer placed near the tee to get their favourite beverage.
Wielding the literacy chakla in desert
Arvinder Kaur
THEY were all in a festive mood. It resembled one of those well-known melas that Rajasthan is famous for. But the men and women, dressed in their traditional attire, were crowded together for a different reason altogether — to catch their first glimpse of a computer! A chakla, masquerading as a mouse pad, bore witness to the excitement, the curiosity and the whispered urgency of the assembled villagers and their desire to see and know the magical new device being unveiled before them.
Nerds' tryst with tribesmen
Raghu Menon
EMBROILED as they are in their world of cutting-edge technology and long stressful hours, IT professionals in this Madhya Pradesh town still find time to do their bit for a truly shining India.
Long gestation period holds ERP
SAP India, a subsidiary of SAP AG, was set up in 1996. Registered in Bangalore, SAP India has its corporate office in Mumbai and branch offices in Delhi and Kolkata. The company is responsible for sales of software solutions, consulting, support through life cycle, training and certification of its users, partners and individuals.