SCHOOL BUZZ
DPS students put their best foot forward
Smriti Kak
Phir Bhi Dil Hai Hindustani was the theme chosen for the cultural extravaganza put up by the students of DPS, East Delhi. A riot of colours, the event showcased the skills of the talented bunch of students, who ensured that they put their best foot forward.
Minister of Education NCT of Delhi Arvinder Singh Lovely was the chief guest on the occasion and praised the children for their efforts. President, DPS Society, Mr Salman Khurshed and Chairman DPS Society, Mr Narendra Kumar were also present on the occasion.
The programme included folk dances, races, aerobics and a street play. Decorated stalls depicting the traditions of various states were also put up.
Teacher Training Programme
Apeejay School, Pritampura, organised a two-day In-service Teacher Training Programme for the English teachers of Senior Secondary level on February 12 and 13, 2004. Over 70 schools from North-West Delhi participated in the workshop with an aim to create awareness of the new techniques of English teaching and also familiarise teachers with the new course introduced by CBSE on 'Functional English'.
The workshop was attended by leading personalities from academia and education including Mr G. Balasubramanian, Director (Academic), CBSE and Guest of Honour, Mrs. Sadhana Parasher, Assistant Education Officer (ELT), Mrs Neelima Sharma, Principal, Pratibha Vikas Vidhayala, Vasant Kunj and a Resource Person (RP) during the workshop, Mrs Sudha Ravi, Vice-Principal, Apeejay School, Pitampura and Mr D. K. Bedi, Principal, Apeejay School, Pitampura.
Inaugurating the workshop, Mr G. Balasubramanian, "I strongly believe that language teaching is undergoing a tremendous change, expecting multifaceted qualities from any employee or individual. Language skills are fast changing because of media perspective and the need for burgeoning communication skills. The day has come where we cannot teach a language, we can only facilitate a person to understand it through examples. Usage of language is essential; it can modify the entire behaviour of a person. A single word can make or break students or people."
He added, " Functional English is a step of introducing more relevant language. I would request all teachers to communicate this effectively."
Mrs Sadhana Parashar, Assistant Education Officer (ELT) said, "CBSE has immense pleasure in introducing this interactive workshop. In this workshop, we are transacting curriculum along with the discussion on the skills of language teaching and curriculum. In a two-day workshop, we are focusing on skills and evaluation."
The workshop was divided into ten odd groups from various teachers of Northwest schools. Each group has six to eight members to discuss functional English as a whole. Groups had also attempted exercises that enlightened them with lots of new techniques and methods of teaching functional English to its students.
Among the schools that too part were Adarsh Public School, Vikas Puri, Columbia Foundation Sr. Sec School, Vikas Puri, Gyan Mandir Public School, Hans Raj Model School, Himalaya Public School, Kendriya Vidhayala, Janakpuri and M C L Saraswati Bal Mandir and many others.
Sports Day
Pathways World School celebrated its first Annual Sports Day. Former cricketer Maninder Singh was the chief guest and inaugurated the Sports Meet after taking the salute from enthralled PATHWAYS students.
Among those present were Mekhla Subedar, the leading squash player of India, and Mr Akaash Chopra, opening batsman for the Indian cricket team.
Speaking on the occasion, Mrs Lalage Prabhu, Principal, said, "We encourage our students to explore their talents and I am sure that the annual sports day, in presence of these sports luminaries will surely take their spirits to a new high". The event kicked off with an inspiring speech from Mr Singh, whereby he urged the students to stretch their abilities and strive for higher grounds. The event also saw the felicitation of Jaineel Shah, a PATHWAYS student, who recently brought the school a gold medal in Delhi Squash Championship.
The students put together an exciting range of athletic events during the day, which also featured thrilling relay races for parents, teachers and ancillary staff. The guest of honour, Akaash Chopra, was floored with questions on the spot.
The students also put up a cultural show including folk dances. A prize distribution ceremony was also organised.
Maths Talent Test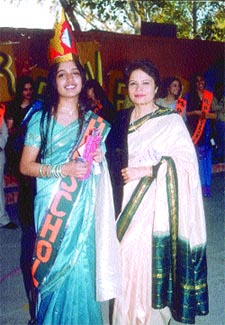 Ms Scholar Vandana Arora being honoured.
Manav Sthali School, New Rajinder Nagar organised its annual 'XX Manav Sthali All India Inter-School Maths Talent Test 2004'. As many as 1,575 students from 52 schools participated in the event.
The talent test was an opportunity provided to students to excel in mathematics.
Young Scientists
A science fair was organised at Children's Valley School, Preet Vihar. The fair saw the participation of students of class IV. Students worked on topics including magnetism, reflection of heat and properties of air.
Students were awarded certificates of participation and awards were given for the best model and charts.
Mira blesses XIIthies
Mira Model School, Janak Puri bid adieu to its badge of XIIthies on February 3, 2004. After days of dedicated practice, the standard XI put up a grand show, which both the teachers and students enjoyed.
The evening began with the arrival of XII students at 2.30 pm and the ceremonial 'Tilak' at the gate. Boys and girls dressed in formal suits and sarees lent colour and charm to the event. The entertainment started with a stage show comprising various items and lively anchoring. Among spurts of laughter, the crowd was awed by the talent exhibited by their juniors as lively dances and touching songs were performed one by one on the stage.
After the entertainment, Miraites followed their convention and awarded titles, sashes and crowns to the current XII. On the basis of polls conducted earlier that week, titles were awarded to the students, some of them being Ms Popular Kirti Sharma (XII C), Mr Popular Manish Sharma (XII D), Ms M. M. S. Aastha Rawat (XII D), Mr M. M. S. Pranay Sethi (XXI B) and Ms Scholar Vandana Arora (XII B). Titles were also given to the students of each class by the XI.
Turtle Walk Project
Five students of Mira Model School, Rohit Negi (XI B), Aditya Sinha (XI B), Akshay Saluja (XI B), Shahid Khan (XI B) and Saurabh Aggarwal (XI D) accompanied by Mr Ajay Rana departed for the 'Turtle Walk Project' to Chennai.
The three-day project was organised by South Zone Award Authority (SZAA) with the special cause of conservation of 'Olive Ridley Turtles'—a breed which is fast approaching extinction.
Accompanied by 36 other students, all from various schools in the North Zone, the group was accommodated at the hostel of Madras School of Social Works.