AUDIO/VIDEOSCAN
Heer: Weaving romance with tragedy
ASC
Heer by Abida (Times Music)
WARIS Shah's Heer is part and parcel of every Punjabi's life although it may not be all too well known outside the state. But even for Punjabis, the immortal love story has lost its pristine glory thanks to crass commercialisation. Gulzar now presents the ballad in its unadulterated form in the voice of Abida Parveen.
She delineates the intensity, imagination, pathos and grace of the poem with a passion befitting the unfulfilled love of Heer and Ranjha. Abida proves the ideal counterfoil to Waris' version of the legend making it a unique conjunction of romance and tragedy.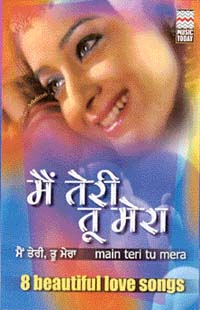 The mesmeric effect of Abida's voice is magnified by the introductory sentences by Gulzar who puts the exalted place of the story in the Punjabi consciousness in the right perspective. The epigrams and allusions that are woven into the poem are a treat to behold.
Main Teri Tu Mera (Music Today)
Bherawi is a teenager who has been singing regularly at AIR Rohtak and has also participated in many live performances.
Music Today has given her a big break although this is a remix album of eight of Noorjahan's songs. Composer and producer Gaurav Dayal has strived to be funky without compromising the musical and lyrical sensitivity of the original songs.
Among the tracks included in the album are Main Teri Tu Mera, Kehnde Ne Naina, Aaya Mausam, Ve Likh Mera Naam, Jadon Hauli Jehi Lenna Mera Naa, Aisiyan Nighavan, Sanu Nehar Wale Pul Te Bulake and Tere Naal Naal Ve Main Rehna.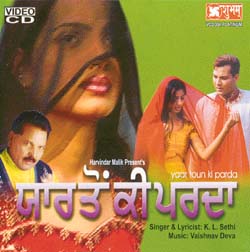 Yaar Ton Kee Parda (Shubham)
This album has been released in both cassette and VCD form. Normally, videos are made out of one or two songs. Here all the songs have been picturised.
What in interesting is that singer-lyricist KL Sethi features in all of them, mostly in colourful kurtas.
Sethi begins on a serious note with numbers like Yaar Ton Kee Parda and Mera Diwawati Jad Hon Lage, but goes back to the bhangra beat immediately thereafter. Things go out of hand when he extols the virtue of drinking in Daru Da Duja Nae Dileri.
Lyrics and music (Vaishnav Deva) are sedate and the same can be said about their picturisation as well.