Parent perfect
The security of roots and wings of freedom
Yana Bey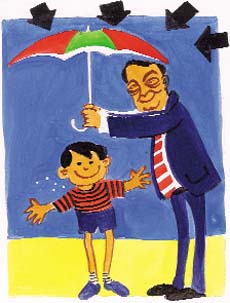 RITA, stolid, sensible, exemplary working mom, has taken leave of all her practicality. She just telephoned to tell me that she's taken a month's leave. "Both my children have their board exams coming up," she said by way of explanation. I was left dumbfounded. Et tu, Rita! Parents are weathering the trials and tribulations of exam-time along with children increasingly.
Aeons ago, when my schoolmates and I had appeared for exams, I heard of no parent making any alteration in his or her daily routine. Except, of course, our mothers ensured a supply of enough food for us to gorge on. As my aunt had commented, "I know from my own exam days that the more one studies, the hungrier one feels!"
Throughout the school-leaving year, teachers drilled into our heads that we were the senior-most class in the school and the fact that we were about to appear for our first public examination meant that we were on the threshold of adulthood. All this instilled a feeling of responsibility. Most important, there was intense competition among us. And, when exam-time came, we studied furiously — setting our alarm clocks and fashioning our own study routines. Far from exhorting us to study, parents and teachers sometimes had to tell us to lighten up.
No mama or papa ever took leave from work or, figuratively, stopped breathing during the extended exam period as is the case with so many mothers nowadays. I am reminded of a colleague, Geetan, saying, "My daughter's last paper is today. Now I can breathe again."
Overwhelmed by affection for our children, some of us become myopic enough to forget that we won't always be there to help them along and that the best service we can do them is to encourage them to be self-sufficient — physically, mentally and emotionally.
The other day, my neighbour's seven-year-old son rushed home crying after being bullied by the other boys in the park. Five minutes later, Papa accompanied him back to the park and shouted at the boys, "Next time, pick on a boy your size." Next time, Papa, gently tell your bonny son that he must learn to fight his own battles. For he will have to do it when you are no longer around to fight them for him.
Most people tend to bring up their children in the same way as they were brought up. This is rather similar to the way we teach—when we are doing it casually, not formal trained teaching, of course. Most of us begin to teach someone something in very nearly the same way that we received our first lessons on the topic. That's what people do with their children. They bring them up the way their parents brought them up. With the result that the same patterns of upbringing get duplicated.
There are exceptions, though. If they feel their childhood was not as idyllic as it could have been, they show a tendency to go to the other extreme. For instance, people who had an obsessively disciplined childhood often cast discipline to the winds. In the process, they lose sight of the fact that the child's interests are not being served. For, beyond the four walls of one's parents' home, it's a harsh world out there that molly-coddles no one.
Funnily, I often see situations when a little protection from the outside world would be in order. But it doesn't occur to the parents to provide it because it never did to his or her parents. Parents who are circumspect about not letting their children be exposed to depiction of sex have no qualms about letting them watch horrific violence on the small screen. But sex is a natural part of life and every child will learn about it sooner or later whereas I would strive my utmost to shield a young mind for as long as possible from scenes of violence, whether real or fictitious.
Then there is the contentious issue of pocket money. Some parents are miserly in doling out pocket money, fearing that a free and easy hand with money will make their child wayward. Others lavish money on their children ("She's my daughter and whatever I earn is for her. She should never be wanting.") There's a lot to be said for a sensible via media. A child who gets very little misses out on learning to handle money, a child who gets a great deal runs the risk of not learning early on the value of money.
Some people go into contortions over what defies "too little" and "too much". It should be fairly simple. It depends on the family's financial and social status, the child's age and school milieu (though, unfortunately, not all schools strive for a controlled environment).
Above all, parents must guard against the danger of letting young children get the feeling that anything they want can be had for the asking. Because life isn't quite like that. No matter how much we love our children, we can do little to ensure that life will be a bed of roses for them. The sooner we, as parents, come to terms with that, the better for our children whom we love so much.