Among the fraternity of liberals
Rajnish Wattas
The Last Liberal and Other Essays
by Ramachandra Guha. Permanent Black. Rs 494. Pages 282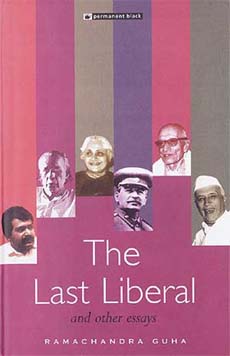 ANY civilised society, nation or a world order can only be sustained by its liberal conscience-keepers. They are the ones who stand up to raise their voices against parochial, dictatorial and corrosive forces that go along with every power structure. Ramachandra Guha's The Last Liberal and Other Essays is a salute to this spirit of freedom of action and thought.
His choice of personalities is diverse and varied like the hues of a tapestry; which even though made of individual threads and shades, come together to form a distinct, composite pattern. His message is simple—it's not a Nehru or a Gandhi alone who can raise nations and lead countries to their, "trysts with destiny," but each one of us, who imbibes and practices his or her moral and intellectual force.
Initially one finds the diverse—and at times disparate—choice of personalities included by Guha, as somewhat bewildering, and un-equal in stature, ranging from scientists and activists, scholars and writers, politicians and bureaucrats. "Quietly purposeful and publicity-shy figures such as Chandi Prasad Bhatt ("father" of the Chipko movement) and Satish Dhawan ("father" of the Indian space programme) are described, as are those whose career and achievements are more public and prominent, such as Madras'C Rajagopalachari and Nepal's B.P. Koirala, Karnataka's Shivarama Karanth and New Delhi's Anil Agarwal."
That's not the real issue. The personalities are only mediums to convey the message. This in fact is quite akin to the real-life persona of the author. On my recent visit to Bangalore—chatting in his cosy, if cluttered study—the intellectual vibrancy and the range of his varied interests comes through. The commitment to his calling; a life of serious enquiry, scholarly research and writing pervades his presence. To top it all, he has so well honed the fine art of non-fiction writing that his essays are not only immensely readable and intellectually stimulating, but also like a "Sherlock Holmes of history," always discovering a new perspective or a connection. When I ask him about how he chooses his topics for writings, he quotes Michael Frayn: "Ideas adopt you, like a lost dog on a walk"
While we have our numerous one-trick, million-dollar-advance celebrities in the genre of fiction—the classical art of discursive essay is almost now getting extinct; save an odd newspaper column. Guha brings back to life this classical form of literary art with his lucid pen, laced with memorable anecdotes, culled meticulously from musty archives to enliven his point. One sincerely hopes that the younger generation of readers riveted to racy fiction will also taste and savour this literary and intellectual delight. The book is structured into two components: essays on people and places, and literature and life.
While each reader will have his own favourites; I personally relished the ones on Nehru—two diverse views titled Vajpayee's Nehru and Nirad Babu's Nehru, making an excellent study in contrast. It's nice to know that even Niradh Babu, the original Indian India-hater, at least in his early days, too, was charmed by the liberal stalwart. Taking a pot shot at him, Guha writes, "A friend of mine once described Nirad Chaudhuri as the President for Life of the Coconut Club of Bengal`85 like the coconut and Chaudhuri, brown on the surface and white within, Bengali by birth but English by habit and taste." Not surprisingly, coconuts flourish on the Indian soil even today!
These essays go to show that how otherwise politically opposites can rise beyond their intellectual and ideological banners to admire the spirit of liberal views and accommodation—a hallmark of Nehru. Guha's own fond epithet for himself, of being a "Nehruvian Indian", is fully vindicated through these essays.
Among the essays on literature and life, his exploration of the special genre of writing biographies and autobiographies illuminates with brilliance and beauty. In the one titled The Arts of Autobiography, his comparisons of the honest and truthful narratives of Gandhi and lesser mortals like Jim Corbett and Salim Ali put to pale the current style of self-serving and glorifying stuff, penned by our present-day retired bureaucrats and effete politicians. Biographies have an important role to play as these "lie at the intersection of history and literature."
Towards the end, Guha includes a cameo chapter on second-hand-books flea markets in various cities of India. Unlike the gravitas of the previous discourses; it romances the love and passion of book lovers in search of undiscovered nuggets, and the serendipity of coming across one. The warmth and humanism of such simple, delightful pursuits is perhaps an extension of the "liberal spirit" of the head and heart—always in search of wider horizons.
The Last liberal and Other Essays fully meets the writer's avowed objective. "So long as there are Indians who seek to break down barriers, there is hope for our land`85 more specifically, I hope these essays display affection and attention towards my homeland." The book earns its place on your shelf for this noble sentiment.