Meet the author
Bond unbound
In a rare interview, Ruskin Bond, who started writing for The Tribune in 1955, speaks of his life, loves and literature to Nirmal Sandhu.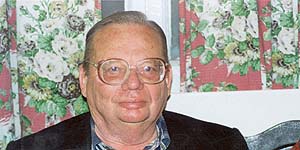 A reader should read a literary work only if it gives pleasure, says Bond
ASK any educated Mussoorie resident the way to Ruskin Bondís house, he or she surely will guide you to Landour, where the eminent writer of short stories has been living at the now well-known Ivy Cottage since 1964.
After passing through a narrow, crowded bazaar, with speeding vehicles adding to the congestion and endangering oneís safety, one faces a steep climb to reach a comparatively cleaner, sparsely populated area. Ruskinís cottage, like the writer, is simple and unassuming.
Suffering from a stomach problem after a recent Delhi visit, Ruskin Bond was initially reluctant to give an interview, but agreed on a little prodding, making me feel guilty of intruding into a writerís privacy.
Perhaps the mention of The Tribune, with which he has been associated for long, helped. As I closely watch the sitting room, lined with bookshelves, and peep through his writing room window to nature, Ruskin, now touching 70, tells me: "I started writing for The Tribune before you were born". When I ask for the year, he says: "1955".
Ruskin was in Delhi during the February 14-22 World Book Fair to receive the N.D. Mehra award, named after the Rupa founder. Earlier recipients of the award include Gulzar and Amrita Pritam. Wherever he goes, Ruskin loves to interact with children. "You have written so much for children, do they read your works, specially with school textbooks, TV, computers and the Internet taking a lot of their time?"
"It has always been like that. Very few children care to read literary books. During my schooldays, when there was no TV and other such diversions, not many students read books," he says, and adds: "Once a while I come across children who say they also want to become writers like me. I tell them it has not been easy going. First, be sure that you write well. Then be ready for a struggle. When you start off, it is just one book. It takes years before royalty and recognition arrive. Now I donít have to depend on newspapers and magazines to sell my writings. Even if I write in long hand, they accept it. It is better to have a job for a regular income. A doctor or a scientist can be more successful if he can write his research papers well."
It was after school in Shimla that Ruskin decided he would become a writer. He went to England, where while doing odd jobs like one in a travel agency, another in a photo shop, he wrote his first novel The Room on the Roof when he was 17. It won the John Llewellyen Rhys Prize meant for young Commonwealth writers under 30.
Feeling homesick, Ruskin came back when he was 21 to live "mostly north of Delhi". With a small advance for his first novel, he rented a room in Dehra Dun, bought a typewriter and vigorously took to writing.
"I would write four to five stories a month along with an occasional article and send them to The Illustrated Weekly, The Tribune, The Sunday Statesman, Amrita Bazaar Patrika and The Leader (now defunct) of Allahabad".
There were several avenues open for short stories then. Todayís market-driven newspapers and magazines have discontinued the use of space-consuming stories. Moving with the times, Ruskin too has moved from short-story writing to essays. "Today I am more an essayist. My latest book is of essays only."
The initial years of the writer were quite difficult, though not as difficult as it was in England. His room rent was Rs 35 a month and food cost Rs 65 or so. As he narrates all this, I am reminded of the protagonist in Knut Hamsonís Hunger. Ruskin is quick to respond. "Yes, I have read that novel. But I never really went hungry. Friends entertained me off and on."
But he got what he loved the most: his freedom. "I have been no manís slave or tyrant," he once said. He limited his expenses. "With friends, I would go to tea shops or small dhabas. I loved cycling and we would often go on picnics."
His agreeable nature ensured he was never short of friends. Why he has chosen to stay a bachelor is hard to say. Not yet close enough to broach the subject, I guess it was because of either his parentsí broken marriage or his passion for personal freedom.
When a more daring interviewer did ask the sensitive question, Ruskin had responded: "I was a fickle fellow. I don't think I'd have made a good, steady sort of husband. Whatever success has come to me was quite late when I was in my fifties and sixties."
However, he did allow a glance at his love life: "I fall in love occasionally. The last time was with a nurse a couple of years back, and thankfully she married a doctor." The trauma of losing a parent also perhaps contributed to his contemplative nature. "I lost my father quite early and then had to go to my remarried mother. I had to adjust a lot, which I managed pretty well. Anyway, my brother has more than made up for my single state by marrying thrice. Now he says he can't afford a trip to India as he is paying alimony to the other two."
The thoughtful bachelor has adopted the family of his Man Friday, Prem, who came to work for the writer when he was a 17-year-old village boy.
When asked whether he has any second thoughts about the kind of life he has led, his answer is spontaneous: "I have no regrets". Did he not miss the comforts of modern life? "I never had any a fancy for cars or other such things".
What does he think of contemporary writers? I pose this question, hoping he would voice a disapproval of the commercialisation of literature. Writers are paid huge amounts. Books are becoming expensive and going beyond the reach of readers with modest means. Publishers and writers join hands to market their books.
But not one to hurt any one with an uncomplimentary remark, Ruskin says Indian authors in English mostly write for a western audience. As far as he is concerned, he says, he prefers to read old classics. He is reading French short stories when I meet him.
Those familiar with his writings know Ruskinís fondness for nature and children. The slow-paced life in and around Mussoorie, finds thoughtful expression in his writings. Simple people, day-to-day situations and important persons and places of the Doon valley are described with sensitivity. Only a writer of deep understanding and observation can draw so much from the otherwise eventless, dreary life in the hills.
It is hard for a prolific writer, specially the one who writes for a living, to maintain quality consistently. In the absence of a tradition of objective, informed literary criticism in this country, it is difficult to assess the true worth of a writer. Short reviews, at times based only an a bookís blurb, as Ruskin notes, are inadequate. A reader should read a literary work, as Ruskin advises, only if it gives pleasure. Literature should be read for enjoyment only.