Women writers as the other
Rajdeep Bains
Writing From the Margin & Other Essays
by Shashi Deshpande. Penguin Viking, New Delhi. Rs 395. Pages 252.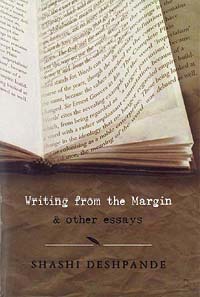 IS literature by women different from that by men? Is women's writing meant for women alone? Are women victims of stereotypes created by men? Are women still vary of voicing their inner thoughts and emotions? These are just some of the questions explored by Shashi Deshpande in this very ruminative collection of essays. In most cases she puts forth her views with an honesty that is startling and infinitely engaging at the same time.
The author attacks the image of women created by men and then perpetuated through literature and myths over the centuries. It is far-removed from reality, she feels. Myths, that form such a large part of a woman's psyche and self-image, have themselves been created by men to fulfil their various needs—the eternal child, the self-sacrificing mother, the chaste partner, the temptress and, finally, the goddess. "What place does a real, thinking, feeling woman have in this agenda? Women were bound to have these doubts." The classics, when read from a feminist point of view, provide an amazing new insight into characters that are otherwise never seen in the spotlight. There is a need, she says, for women to come forward and tell their own tales so that a more realistic picture emerges.
The main note throughout the book is one of anger, disappointment and frustration at the continued marginal status of women, which is reflected in women writers being kept out of the mainstream.
Even today most men think that "women's experiences (are) of interest only to women, women's lives and experiences can never take on the larger dimension of being human or universal`85it is the male experience that is the universal experience." The unease at this awareness is reflected in her own experiences, which she candidly shares with the readers. Women's writing, she stresses, is very different from that by men and thus has to be read differently, after putting aside all the assumptions and prejudices that have come to us from reading work by men. "We need to forget about the male norm and look at writing with a different vision`85."
Shashi Deshpande proposes that till some time back the biggest problem for women was their lack of confidence in themselves and what they had to say. Feminism has helped women overcome this hurdle and view themselves as writers beyond the "marginal". It has bestowed a certain kind of respectability to women's writing, which it lacked earlier, since it can now be placed into a category, "protest writing" in India.
This, too, has its disadvantages. "If you are a feminist writer, you are taken somewhat seriously. But because you are feminist, you cannot be part of the mainstream. It's a no-win situation." There are of course ways of joining the mainstream. In her essay, Writing from the Margin, the author lists "success" as one factor that ensures an entry into the elite world and age as another. Successful authors like Arundhati Roy never seem to have the label of "women writers" attached to them and older women seem sometimes to acquire greater acceptability with age.
The essays, though concerning serious issues, have a universal appeal to them that makes them immensely readable. In all of them, the tone is chatty rather than pedantic and the author's genuine concern and involvement, as well as her ease with the medium she writes in, is very visible. Her well-read observations on other writers and their work are very incisive and thought provoking. She, however, seems to have an eye on the reaction of reviewers at all times, which strikes a jarring note on the otherwise excellently written observations.
At the core of all good literature is a moral vision. This vision has, however, to be conveyed in the right form and Shashi Deshpande has done just that. She has presented us with her views about what is right and acceptable and what is not in such a disarming manner that even her critics are forced to, at least, consider her viewpoint before pronouncing judgement, and that is half the battle won.