Life comes full circle for Sohail
After biting the dust with his acting debut in Maine Dil Tujh Ko Diya, Sohail Khan has turned producer with I, Proud To Be An Indian. The actor, director and now producer plans to provide meaningful cinema only, writes Avinash Kalla.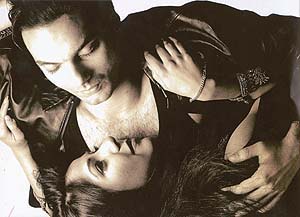 Sohail Khan: Focusing on Indians abroad
HE is fast proving that he isnít merely a reel fighter but a real one as well. He has put his disastrous debut in Maine Dil Tujh Ko Diya behind him and just shrugs it off as a bad dream. But talk to him about his cameo in Darna Mana Hai, and a smile brightens the face of Salman Khanís kid brother Sohail.
Yes, he says, debuts can often go wrong. " Donít judge me just by my first film. My role in my second film Darna Mana Hai came in for critical acclaim didnít it?"
And now comes the big testing moment. Sohail has taken a new stride and has turned producer with his curiously titled film I, Proud to Be An Indian.
" I am looking forward to the audience response to the first film under my production banner. I am confident about the film which addresses issues of racism in England faced by Asians," says a relaxed Sohail, who also plays the lead.
The star is hoping that the film under his production banner is as successful as his directorial venture, Auzaar six years ago. I, Proud To Be An Indian was conceptualised when some of his friends staying in London narrated horrifying incidents about the treatment meted out to people of Asian origin in that country.
"The film is set in Londonís Eastend which is infested by British skin-heads who still believe in the dictum: If you are not white you are not right. The subject struck me as being completely unusual and I felt it could be nicely portrayed. We hear about the waves that Indian software professionals are making abroad but we seldom hear about the curse of racism. Life is certainly not a bed of roses for the average Asian families settled in the UK," says Sohail.
Turning producer was always on the cards as Sohail has for long been looking forward to making the kind of films that he believes in. " This idea struck me as very original and I decided to take the plunge right away."
But he didnít want to mix production and direction and rightfully gave the megaphone to debutant director Puneet Sira. The reason for this, he says, is simple. He didnít want to risk being a producer, director and lead star of the film.
Multi-tasking
"Hats off to people like Raj Kapoor, Guru Dutt and to Manoj Kumar who were masters at multitasking. I am most comfortable handling one thing at a time," says Sohail.
The film has many firsts to its credit. It is not just Sohailís first film as a producer but has a debutant director Puneet Sira, Imran Ali Khan, an upcoming English actor of Pakistani origin starts his film journey with this project and so does leading lady Heena Ansari, who is a Germany-based Pakistani actress. Despite having so many debutants the film was shot in 34 days, thanks to the enthusiasm of the all-new crew.
The Asians too came forward to help in London as they felt strongly about the subject and said that it was good that someone was raising the issue that affects their day-to-day lives.
" It was a surprising gesture from them and I feel that the biggest strength of my film is the unity of emotions that it portrays. The star cast that comes from a diverse background too adds to the story and makes it more real," explains Sohail.
Now with the release of the much-awaited film will Sohail stop taking outside acting assignments and concentrate only on home productions?
Perish the thought, he says. Today, Sohail has enough projects to keep himself busy for a few years. In the pipeline are films like Krishna Cottage, Raakh, Lakeer and Aryan. Apart from that he will soon be producing Lucky that stars brother Salman and will be directed by the Kaanta Laga duo Radhika Rao and Vinay Sapru. And thatís not all from junior Khan, who dons the directorís cap again for the Salman-starrer Kisaan.
Thatís some hectic schedule. "Yes it is, but now I want to give the audiences their moneyís worth. Be it acting, directing or producing, my endeavour will be to give only the best. After watching my film viewers should say Paisa Vasool!" Wish Manisha Koirala could say the same thing about her first home production.