Building fame on sand
Bibhuti Mishra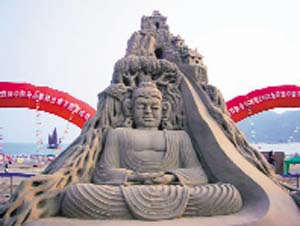 A statue of the Buddha made by sand sculptor Sudarshan of Orissa
SUDARSHAN Pattnaik of Orissa has been doing India proud in an unusual field: sand sculptures. Hailing from the beach town of Puri, he has been making sand sculptures for more than 13 years now and has won accolades in India and abroad.
He used to make sand sculptures on the beach when he got noticed by some foreigners who told him about sand art competitions abroad.
His maiden exhibition was held at the World Travel Market in London with the support of the Government of India's Tourism Department in 1998. Next year, his art got major exposure when he exhibited during the 1999 World Cup Cricket held in England. Since then there has been no looking back.
Sudarsan was quick to adapt to the demands of international sand art competitions. "Here, I used to make sculptures in horizontal positions. But when I went abroad, I found that they prefer vertical sculptures, which are very difficult to make," he says. But Sudarsan proved to be a quick learner and soon mastered the art of vertical sand sculptures. The highest sculpture he has made so far is 40-foot-high and was exhibited at the World Championship in France in 2000.
In October last, Sudarsan represented India at the China International Sand Sculpture Competition at Zhoshan, near Shanghai, and won the fourth prize. The only Indian entry in the competition, he had competed against celebrated artists from nine other countries, including the hosts.
Earlier, he had bagged the third prize at the Berlin Beach Festival, organised between June 17 and July 27, 2003,for his Ganesh sculpture in sand. Again, he was the only representative from India competing with participants from 10 other countries. A couple of months earlier, he had made headlines for coming second at the prestigious International Sand Sculpture Championship held at Valadoli city, near Madrid, in Spain from April 27 to May 2, 2003.
In all, he has participated in more than 20 international events so far, winning accolades from the President, the Prime minister, the Governor and Chief minister of Orissa.
The 20-foot-high sand sculpture by Sudarshan representing universal peace and anti-war message has come in for high praise in Spain. In China, Sudarshan recently sculpted a 19.7-foot-high statue in sand depicting Lord Buddha meditating under a Bodhi tree and Buddhism spreading far and wide through the Silk Route from India.
How does sand sculpture compare with other art forms? "People love it primarily because these sculptures are temporary in nature; they can collapse any moment. Their fleeting beauty makes sand and snow sculptures so popular," says the young artist. Talking about the techniques, he explains, "This art requires special sand and water treatment. Sometimes we get coloured sand, as in Luilang, China. The raw material should soak water and spread evenly. Otherwise, it will collapse. We learn from experience." He informs that there are sand sculptures in Japan that have remained intact for the past 14 years!
Last year, Sudarsan built a 10-foot-high chariot of sand at Puri during the Jagannath Ratha Yatra in July. Legend has it that in the 14th century, Balaram Das, a great poet and devotee of Lord Jagannath, was denied permission to ride the Lord's chariot as he was not a Brahmin. Humiliated by the temple priests and the King of Puri, Das came to the beach and built chariots of Lord Jagannath, Balabhadra and Subhadra in sand. His devotion was so strong that the deities vanished from the original chariots and appeared on the sand chariots built by Das. Later, the king and priests traced the deities to Das' chariots. To commemorate this event, even today the yatra pauses for a while at Balangadi Square in Puri. Says Sudarsan, "This proves that though sand sculptures are so popular abroad, they actually originated in our land in the 14th century."
Sudarshan provides training to youngsters through his Open Air Golden Sand Art Institute in Puri. "My aim is to promote and popularise the unique art for which various national festivals and tourism events will be planned.
But all this recognition has not translated into material gains for the artist, who, at 26, may perhaps be India's youngest world champion in this field. "I have got no support. The artists who become champions abroad are well taken care of. They get sponsors for everything. But I get congratulatory messages only. I have been knocking at the door of the Chief minister for a job but so far nothing has been done," he laments. This is unfortunate considering the fact that he has resisted the temptation to settle abroad because he wants to popularise and promote sand art in India. "If this government indifference continues I might have to settle abroad," he says with a touch of frustration.
A member of the International Sand Art Committee based in the USA, Sudarshan has many dreams. He wants to hold a big sand sculpture competition in Puri and dreams of making India a force to reckon with in sand sculpture tournaments. But with sponsorship and government support remaining elusive, how many of these dreams will be realised remains to be seen.