Superstitions, sports & success
Radu Timofte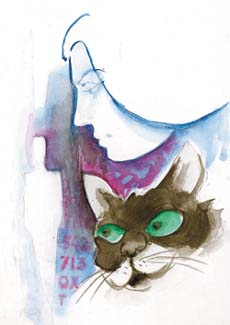 IF you want to score a goal, make sure you put some grass from the pitch inside your shirt. And if you want your team to win, never whistle on the bus.
Cynics may scoff at this but for Romanian soccer players, coaches and club owners such superstitions are a sure way to success.
Romaniaís first division teams kicked off their winter training season after the holiday break not with team-building exercises but with blessings to ward off evil and secure victories.
One Romanian first division team posed for religious calendars in a bid to improve their athletic abilities.
"We showed our faith by accepting a priestís proposal to pose for the calendar," Dinamo captain Florentin Petre said.
"Iím convinced that our gesture will help us win the title this season."
Not to be outdone, National Bucharest bosses hired Orthodox Christian priests to bless their stands and pitch on New Yearís Day.
Such open expressions of religious faith were a far cry from the days of Communism when players were not allowed to display any religious beliefs, said former international Ioan Andone, 43, now Dinamo Bucharest coach.
He said almost all the players had a secret way of asking for Godís help on the field.
"It was not allowed to make the sign of the cross with our fingers," Andone said. "But all of us made the sign with our tongues inside our mouths."
Since the 1989 collapse of Communism, Romanian players have been free to pray openly. While they believe that Godís intervention must be ardently sought for success, any "evil" influence must also be removed.
In August last, a female news photographer was kicked off the plane taking the national team to Donetsk for a friendly against Ukraine due to player superstition.
"A woman on the plane or on the bus can destroy the teamís good luck," a local soccer governing body official said at the time.
When Romanian witches warned Chelseaís Adrian Mutu that his career would suffer because of the curses an abandoned girlfriend had cast on him, Mutu just shrugged.
"No problem. Curses canít touch me because I wear my underwear inside out," he said.
Some rules are followed by all players: the national teamís bus never reverses when players are aboard and nobody is allowed to whistle while on it.
Each player must step first with his right foot on to the field and they all put some grass from the pitch into their shirts.
Other measures are practised by individual players. Former international Ilie Dumitrescu was well known for always putting basil in his boots the night before matches in the belief that it would help him score.
At Dinamoís arch-rivals, Steaua Bucharest, international striker Claudiu Raducanu buys holy icons in each city he plays in.
"Dozens of icons decorate our bedroom walls," his wife Alice said. "There could be about a hundred."
National team coach Anghel Iordanescu visits a church before matches and carries four religious icons on him before and during games.
If God is implored for help before matches, he is also thanked after victories.
Main Steaua shareholder Gigi Becali, who has given financial help to construct 20 churches across the country, started building a Church in the remote, poor town of Dragasani after is team overcame Southampton in the UEFA Cup last year.
Becali, a former shepherd who now has a fortune estimated at $ 300 million, told a television show that his present house was built on the same land where his main herd grazed 15 years ago in order to keep his luck going. "I believe I have kept my good luck going because I built a church even before raising a house for me and my family," Becali said. Reuters