"Wave of remixes won't last"
Varinder Singh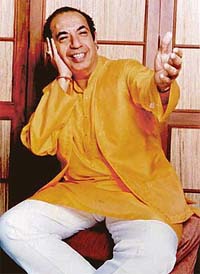 Mahendra Kapoor wants to set up a music institute and company
MAHENDRA KAPOOR, Bollywood's yesteryear singer whose high-pitched voice has shades of the richness that characterised the singing of his guru Mohammed Rafi, has had a whole generation of serious listeners hooked to his patriotic and even romantic numbers. His songs hold an appeal for people of all ages and from all walks of life.
For over four decades, since he started his career with a song in Sohni Mahiwal, under the baton of Naushad in 1958, he has rendered over 20,000 songs in almost all languages, including Hindi, Punjabi, Urdu, Gujarati, Bhojpuri, Haryanvi and Marathi. With hit numbers in films like Humraaz, Nikah, Purab Aur Paschim, he enthralled generations of music lovers with his spirited style of singing. Despite the invasion of the music industry by frivolous, western influences, Mahendra Kapoor has not entirely lost hope for serious Indian music. He keeps himself occupied by cutting new albums and doing stage shows in India and abroad. He dreams of launching a music company and music institute to save traditional music from the "pirates" and bunch of "non-serious" people who have invaded the industry. His son Rohan Kapoor shares his dream and is busy giving practical shape to it.
The singer bares his heart in a chat. Here are excerpts:
What is the difference between the golden era of music you witnessed and the contemporary one where music is just another 'computer generated' product ?
It hurts me to see the growing deterioration. In our times, music directors and even producers stressed upon infusing soul into a song to make it perfectly suit a scene. Those days, we used to sing with an orchestra of a minimum of 100 instrumentalists and that too after 5-6 rehearsals. But nowadays there is no rehearsal and the place of instrumentalists has been usurped by the computer. No doubt, computer technology lends an advantage to song recording but robs the music of emotions as the singing is done in a piecemeal fashion.
What about the remixes that have today's youth totally hooked?
Remixes are of three types. One, those which don't disturb the original song at all. Two, those which play around with the original song to some extent. And the third kind, in which inclusion of dialogues spoils the whole spirit of a song. I feel the era of remixes is not going to last more than six months or a year. Melody is set to bounce back.
Which songs are your favourite amongst the ones you've sung and who was your guiding force?
I like all my songs but the ones I like to sing more now are romantic numbers like chalo ik baar phir se ajnabi ban jaayen hum dono, and tere pyar ki tammana. But at times, people force me to repeatedly sing mere desh ki dharti sona ugle, ugle heere moti. My guru has undoubtedly been Mohammed Rafi sahib from whom I have learnt everything.
What are your future dreams and plans?
I plan to cut an album of gurbani. Another one based on the songs of Shiv Kumar Batalvi is almost complete. I have already offered to sing Gurbani on the ETC channel free of cost. Though Rohan is working on a number separately, both of us have just completed an album of Mata Dian Bhetaan. My biggest dream is to launch a music company and open up a music institute in Mumbai. Profit is not my motive.
Do you still sing for films?
I have not been singing for films for two years. It is not that I don't want to sing for films. If somebody comes with a decent offer I will surely do playback.
What do you feel about present day Punjabi music?
Again, it is sad that nowadays most of it is nothing but raula rappa. It is a clear deviation from our original folk music. But still there are good singers like Gurdas Maan and Daler Mehndi, who have been able to understand the very spirit of Punjabi music and culture and have contributed to it positively. Moreover, visually some of the pop albums are so obscene and there is no coherence between the audio and visual. Mere khyaal vich saare hi bhangra paayee jaande ne.
Do you still do riaz as rigorously as in olden days?
I do riaz for hours the first thing in the morning. My wife, Praveen Lata Kapoor, continues to be my patient listener.