Spell of Sneha's sur
Dharam Pal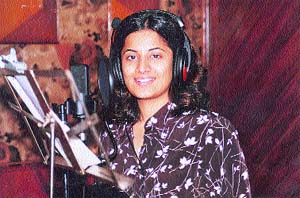 Sneha Pant: Life's a song for her
AYE DIL... Dil Ki Duniya from Yaadein, Jaa Sanam Mujhko Hai from Na Tum Jaano Naa Hum, Thoda Thoda Sone Ka Rang from Ek Aur Ek Gyarah and Om Jai Jagdish from Baghban— all these popular songs have something in common. They have been sung by 21-year-old Sneha Pant.
This Delhi-born artiste, who has received training in Kirana Gharana, has made a mark in various streams of music. She learnt Indian classical music (vocal) from Gandharva Maha Vidyalaya in Delhi and then trained under Shikha Ganguly of Kirana Gharana. She also got training in light music from veteran music director Kalyanji (Kalyanji-Anandji). The sittings with Kalyanji helped to hone her skills and changed the life of this Mumbai-based artiste.
Sneha's first attempt at professional singing was with TVS Sa Re Ga Ma on Zee TV. "I was declared the final winner. Since then, I have been honing my abilities," she says.
She has already performed in more than 500 shows under the Kalyanji-Anandji banner and also done stage shows as the female lead with Sonu Nigam, Shankar Mahadevan, Sukhwinder Singh and Anu Malik. She has also done three Bangla albums - Protam Daikha, Bangla Version and Surer Bhuvan - and sung a number of songs for regional films. She has also contributed to Punjabi, Nepali, Oriya, Telugu, Assamese, Bhojpuri, Rajasthani, Gujarati and Marathi albums.
Sneha says it is important to create one's distinct style. "One should never imitate anybody. Look at Udit Narayan. He is a great singer because he has a distinct style. One must concentrate on sur-taal and expressions."
Some of the forthcoming films for which this artiste will do playback are Shankara, Khwaab, Mera Saaya Saath Hoga, Chandni Chowk, Ranjha, Surya, Masti and Shitiz. She is also doing a remix album with music director Santokh Singh. Terming it "a dream come true," she is actively involved in each and every stage of the project, from programming to recording.