ULTA-PULTA
Education for jailbirds
Jaspal Bhatti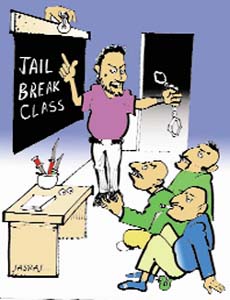 MY friend Lally is a failure in every business but he believes in the maxim: Try, try again. Last week, he came out with the idea of stepping into the education business in spite of the fact that he has always had a distant relationship with education. I asked him if he planned to open a nursery or KG shop. He informed me, "No, Iíll go in for specialised courses in higher education."
I further enquired, "Lallyji, what kind of education are you going to sell ó engineering, commerce or computers?" He ridiculed my guesses saying these courses were outdated. He declared proudly, "I will start new courses like a postgraduate diploma in Jail Breaking."
I think he has been inspired by the recent cases of jailbreak from Burail in Chandigarh, Dinapur in Bihar and Tihar in Delhi. There must be several criminals who aspire to learn the skills required to break jails. There is no reason why such education should be limited to a few elitecriminals.
I told Lally, "Education in jailbreaks requires special training in digging tunnels without tools, arranging cellphones without permission, bribing the jail staff. Without access to any banking facility. So Iím sure youíll keep the tuition fees very high for the courses." He said, "No, Murli Manohar Joshi says that education should be such that even poor students can afford it."