Ex-Karnataka CM Bangarappa joins BJP
Tribune News Service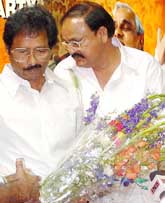 Former Congress Chief Minister of Karnataka S. Bangarappa who formally joined the BJP with the party's national President Venkaiah Naidu in New Delhi on Thursday. — Tribune photo by Mukesh Aggarwal
New Delhi, March 4
In a boost ahead of the crucial Lok Sabha and Assembly elections in Karnataka, former state Chief Minister S. Bangarappa joined the BJP here today, saying that the "Congress is not in a position to serve the nation."
Mr Bangarappa, who met Prime Minister Atal Bihari Vajpayee and party President M.Venkaiah Naidu, formally joined the BJP in the presence of party general-secretary Mukhtar Abbas Naqvi and Karnataka state unit president Ananth Kumar, BJP poll campaign committee chairperson B. B. S. Yidurappa and senior state BJP leader D. H. Shankarmurthy.
Welcoming Mr Bangarappa, who was expelled along with his son Kumar Bangarappa by the Congress yesterday, Mr Naidu said former ministers and MLAs were joining the BJP in a big way and this would enable the party to increase its tally in the state in the Lok Sabha elections.
Mr Naidu said many more Karnataka legislators and leaders from other parties were likely to join the BJP.
"We are confident that the BJP's vision of having the first BJP government in a South Indian state will be realised in the coming elections," Mr Naidu said, adding that the party would not project any particular leader as the chief ministerial candidate in Karnataka.
Meanwhile, according to party sources, Mr Bangarappa is likely to contest the Lok Sabha elections from the Shimoga constituency, represented by him in the 11th and 13th Lok Sabha.
Mr Naidu also made an attack on the Congress and other opposition parties for their opposition to Deputy Prime Minister L. K. Advani's "Bharat uday yatra", saying, "it is the Constitutional right of any party to conduct yatras and rallies."