Histrionics is his forte
Asha Ahuja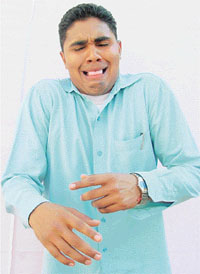 Ludhiana, March 5
Crescendo, a cultural programme held at GNIMT College here recently, saw Jaswant Singh, a sought after guest artiste of GCB College, entertain students by imitating news readers like Raman Kumar and actors and winning accolades for his performance.
Jaswant Singh has multifaceted talent. He is not only a great mimic, but also scores high on histrionics. He has won several awards in histrionics at university-level youth festivals. He won the first prize in histrionics at one such festival in 2003. He has won College Colours and has been awarded the Roll of Honour for his talent.
He writes the script himself and ensures that it is humorous. He believes in clean humour and avoids vulgar or double meaning words. He is self-trained and has learnt the nuances of speech.
He says that he has always been shy but wanted to be an entertainer. His desire to entertain people helped him overcome his shyness and stage fright.
He began with watching actors perform and then listened to the audio recording of their dialogues. He can now mimic any actor with ease and reproduce all the intonations, pauses, and inflections of the actor concerned to perfection. He also likes to sketch actors in various poses.
He has appeared on stage with Chacha Raunki Ram and performed on television. He is impressed with Gurpreet Ghuggi and thinks that he is the best anchor on Punjabi television. He desires to anchor a show on Ghuggi's pattern and intersperse his act with comic repartees.
From Colleges
Seminar on education for peace held
Tribune Reporters

Ludhiana, March 5
The Malwa Central College of Education for Women, Civil Lines, Ludhiana, organised a seminar on "Education for peace — our main priority."

The seminar was sponsored by the National Assessment and Accreditation Council (NAAC), Bangalore. Prof Ramesh Kapoor, Dean, College Development Council, Panjab University, Chandigarh, inaugurated the seminar.

Dr N.S.Mavi, Head, Department of Education, Kurukshetra University, presented a theme paper on "Instructional paradigms for imparting education for peace." Dr Romesh Verma and Dr S.K.Bawa, from Punjabi University, Patiala, presented theme papers.

Farewell party:

BA II students of Guru Nanak Khalsa College for Women, Gujarkhan Campus, Model Town, gave a farewell party to the outgoing students of BA III. Students presented individual and group dances and choreography. Beautiful damsels attired in glittering sarees sashayed down the ramp to bag the title of Miss Farewell. Rupinder Kaur won the title of Miss Farewell, whereas Aman and Simran were declared first and second runners-up, respectively. Satinder Kaur was adjudged Miss Elegant, Sakshi Miss Graceful, Gurleen Miss Personality and Gagandeep Miss Best Smile.

Anahad-2004:

Anahad-2004, annual cultural extravaganza of the Ludhiana College of Engineering and Technology, was organised here on Thursday. Various cultural events like gidha, skits, songs and bhangra were held.

The function was presided over by Mr Mohinder Singh Kaypee, Minister for Technical Education and Industrial Training, Punjab. Dr J.S.Sohal, Principal of the college, presented the annual report of the college.

Mr V.K.Gupta, Chairman of the college, proposed a vote of thanks.

Elected:

Dr Simran Preet Sidhu, head of the Department of English, Guru Nanak Girls College, Ludhiana, has been unanimously elected secretary/treasurer of the Indian Association of American Studies, at its annual congress held at Punjabi University, Patiala, recently.