Women's Day is a day to celebrate achievements — cultural, economic, political and social. It is celebrated by presenting women with a symbolic bread and a rose, says Juhi Bahkshi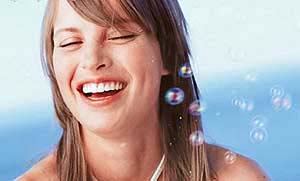 A woman should be able to celebrate life
THE bread is a symbol of freedom from hunger and want and the rose is symbolic of the promise of a better quality of life, free from oppression.
The bread-and-roses story began in 1857, with women factory workers in New York City, protesting against inhuman working conditions and low wages. In 1908, 15,000 women, chanting the slogan "We want bread and roses too", marched through new York City demanding shorter work hours, better pay and voting rights.
What is the story in our part of the world as far as bread and roses for women go. A look at the government statistics seems encouraging. It is estimated that India is home to 92 million working women, with the female Work Participation Rate (WPR) having increased from 14.2 per cent in 1971 to 22.3 per cent in 1991 to 15.9 per cent in 1997.
Economic experts are currently talking in terms of feminisation of poverty. To put it simply, a study of poverty all around the world has shown the women to be the poorest of the poor, leading UNDP to describe poverty as having "a woman's face":
Studies have also concluded that not only do women form the most impoverished of the lot but also that the women represent the fastest increasing group of impoverished, a process being referred to as "the global feminisation of poverty."Nowhere, apart from certain African nations, has poverty adopted the female face in such fantastic a manner as in the Indian subcontinent.
Poverty not only reflects in economic terms but also translates into deprivations of several kinds. These deprivations take different forms in different strata. In poorer households, right from food, work, education, clothing, to marriage, women receive the worst of the lot. Nutritious food is reserved for the male sex. If there is an increase in household expenditure, it is the women and young girls' diets that are the first to be slashed. Alongside unequal food distribution, comes unequal provision for healthcare facilities. Studies show that girls are less likely to receive medical care than boys, less likely to be admitted to hospital for treatment and in some instances, less likely to survive illnesses than boys. A poor nutritional status of girls and women means that their illnesses are of longer duration. Girls are made to leave school at the smallest of excuse, mainly to act as a household assistants or domestic servants, while boys are allowed to study relatively more.
For every woman who steps out of her house to work as a domestic help, or as a construction worker or as a farm hand, there is a daughter staying at home baby-sitting, cooking and housekeeping. Thus lesser loved, lesser fed and lesser educated, she is often got rid of in the form of marriage at the earliest sometimes barely in her teens, leading to premature motherhood and a staggering mortality rate of 410 per 100,000 (compared to a mortality rate of mere 24 for the West) deliveries with each women giving birth on the average 3.3 times in her life time. However, many a times she is not even allowed the dignity of marriage, but rather sold like a slave into prostitution. The fact that women and children from the Asian region form nearly one third (some claim it to be a very conservative estimate) of global trafficking trade, testifies this ugly reality.
In most Indian households, the girls are denied the very power to dream. They are denied as much independence and professional education and other essential forms of instruction like the rationality to make economic investments and such like. She is groomed to subordinate herself to the collective will of the family, to ensure that she makes a good wife later. A young, easily malleable —read dominated—girl is still the dream bahu of the Indian household. Later on, she is denied inheritance on equal footing. There is a very obvious lack of decision-making powers even of the elementary kind. This includes stepping out of the house to visit friends, parents or shop. When it comes to bigger decisions like those related to finances, property, planning families etc. independence is almost unheard of. When she does step out of the house, she does so only after having suffered from several deprivations and having been denied proper education leading her to seek employment in informal sectors.
Hard pressed to accommodate the role of both breadwinners and domestic care-takers, women often are forced to make compromises on professional fronts. They accept jobs that pay less, offer minimum economic and social security, labour laws are difficult to implement and where there are minimal chances of economic growth and lack of economic and social security.
In rural areas, 87 per cent of women are employed in agriculture as labourers and cultivators. In urban areas, about 80 per cent of the women workers are employed in household industries, small trade and services, and building and construction.
A woman still bears the cross of her traditional domestic chores while the rising costs of living have put on her additional burden of pouring money into the family kitty.
"By the end of the day, despite having worked like a dog, I still have to ask my husband for money for that magazine that I might like to buy or that luxury of a lipstick that I liked", she adds, "of which too there are chances that I might be refused".
Maybe a meaningful way to really celebrate this Women's Day for us would be to decide in our mind to at least teach our women that the bread should be theirs for taking and so should be the roses.
The sex ratio in India is 927 girls per 1000 boys.
The approximate number of children who die within one year of birth, per 1,000 children alive (infant mortality rate), is higher for girls than for boys, with a ratio of 78 per cent for girls and 67 per cent boys. (UN, The World's Women).
In 1999, 40 per cent of women were assaulted by their intimate partner (UNIFEM, Biennial Report) and 65,3 per cent of women reported some kind of abuse (UNDP REPORT).
In 2000, the estimated adult illiteracy rate was 31.6 per cent for men and 54.6 per cent for women. (UN, Social Indicators).
According to the national Family Health Survey-2, 1998-99, only 52 per cent of women in India are consulted about decisions concerning their own healthcare
The percentage of deliveries attended by health professionals in 1998-99 was 43 per cent. The lowest proportion is 22 per cent in Uttar Pradesh.
Women's wages rates are, on average, only 75 per cent of men's and constitute only one-fourth of the family income.