Goldie: Guide for new filmmakers
Devinder Bir Kaur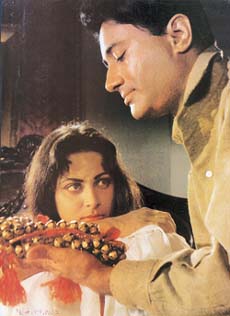 Dev Anand and Waheeda Rehman in Vijay Anandís classic Guide
HIS name commanded respect. He was a trusted filmmaker who regaled cinegoers with films that were as flawless and priceless as Guide, Tere Mere Sapne, Taxi Driver, Jewel Thief, Teesri Manzil and Johnny Mera Naam, to name a few. Vijay, aka Goldie, the kid brother of stalwarts Chetan Anand and Dev Anand, was indeed an ace filmmaker, much ahead of his times.
However, at the Mumbai International Film Festival held in Mumbai recently, while accepting a lifetime achievement award, Vijay Anand said 50 per cent of the credit for the award went to his eldest brother Chetan Anand from whom he learnt the craft of script-writing and direction.
Goldie was still a child when his mother died in Gurdaspur and he shifted to Chetan Bhai's house at Bandra, Bombay. It was a house where at any given time a drama rehearsal would be on. Goldie watched from the wings in sheer wonderment. Later, he participated in them and wrote and produced plays in college. He had discovered a world he loved.
Eventually, in 1957, when Goldie wrote a screenplay, he hesitatingly showed it to Chetan Anand. The latter, being out of work, accepted it and shot Nau Do Gyarah in 40 days ó with ghar ka hero (Dev Anand), ghar ki heroine' (Kalpana Kartik who was to marry Dev Anand), cameraman and music director S.D. Burman. Both Chetan and Dev Anand got a boost from the film, but Goldie, the writer, a small voice in the family, was sidetracked.
Consequently, when he wrote his next script Taxi Driver, he gave it to Dev Anand (Chetan Anand had left their Navketan banner to do his own thing) on the condition that he (Goldie) would direct it. A reluctant Dev relented. Goldie left his studies (he was doing MA) and plunged into Taxi Driver. The film was a silver jubilee hit! Goldie never looked back. He then directed Kala Bazaar (1960) and Tere Ghar Ke Saamne (1963) for Navketan Productions.

Vijay Anand with big brothers Dev and Chetan Anand.
But it is for the masterpiece Guide (1965) wherein lies Vijay Anand's claim to immortality. He himself often said warily, 'Guide looms over the rest of my work." Interestingly, Vijay Anand had tried his best to dissuade Dev Anand from making the film. Dev was obsessed with the idea of turning R.K. Narayan's novel into a Hindi-English bilingual in collaboration with Pearl S. Buck. Vijay Anand was horrified when he read the script and thought it would ruin the image of the country abroad. The first scene had Marco and Rosie disembarking at the station and encountering Raju guide. In the next shot Rosie and the guide were in bed together! Vijay Anand refused to direct the film. Old friend Raj Khosla was brought in for the Hindi version and Hollywood director Tad Danielewski for the English version. For the heroine, original choices Vyjayanthimala or Padmini were rejected as Danielewski found them too buxom. He preferred Leela Naidu. But she was no dancer. Finally, Waheeda Rehman was brought in. She refused to work with Raj Khosla. In desperation, Dev Anand turned to Chetan Anand. But Chetan was to leave for Ladakh to shoot for Haqeeqat. Dev once again turned to his younger brother Goldie. Vijay Anand agreed, provided he was given complete creative freedom, which included rewriting the script. He went off to Khandala and after 18 days returned with a new script. The shooting in Udaipur was completed in 80 shifts.
S.D. Burman's brilliant music, Fali Mistry's excellent photography and Waheeda's mind-blowing performance, especially the dances, made Guide the film to stand the test of time. However, Guide was slow to catch the audience's interest. But when it did, it ran to full houses in Bombay. Just then Gujarat was hit by a drought. Posters came up everywhere saying: Guide prays for rain. The film, expectedly had a silver jubilee run in Gujarat. It won eight Filmfare Awards.
Next Vijay Anand directed Teesri Manzil for Nasir Hussain. Guide had taken its toll on him and he wanted to make a light film which would make for easy viewing. He gave thrillers the kind of varnish job that made them gleam. And today, Vijay Anand's Teesri Manzil (1966) and Jewel Thief (1967) are acknowledged as the best among the who-murdered-whom genre.
Jewel Thief was followed by Johnny Mera Naam (1970), another superhit. It was so slick that the Principal of the FTII, Pune, showed his students this film to give them an example of a perfect mix of art and the commercial. Chhupa Rustom, Hum Rahe Na Hum, Bullet, Jaan Haazir Hai, Ram Balram and Rajput followed.
The veteran filmmaker's films were talked about for their song picturisations. They were never used as items; they carried the story forward. Who can forget Waheeda's burst of freedom in the song Aaj phir jeene ki tamanna hai in Guide?
A director par excellence, Vijay Anand's acting skills came through when he starred in films like Kala Bazaar, Haqeeqat, Double Cross, Tere Mere Sapne, Kora Kagaz, Main Tulsi Tere Aangan ki and Hum Rahe Na Hum. He played the role of a detective, Sam, in TV serial Tehkikaat a few years ago. His last film Jaana Na Dil Se Door is still incomplete.
His son, 22-year-old Vaibhav, who had been kept away from the showbiz, had recently expressed a desire to go to America to learn filmmaking. His friends asked him why he wanted to go abroad when he had an institution right at home. That was when Vaibhav realised that his father was a filmmaker. He then saw Vijay Anand's films and was learning the craft of filmmaking from him. A pity Vijay Anand is no more to see how his protege would have shaped up as a filmmaker.