Fitness Trail
No-sweat way to burn calories
Renu Manish Sinha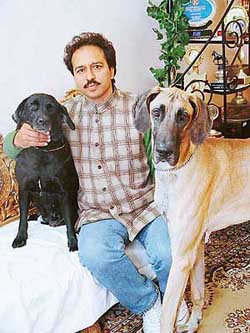 Adopt a pet. It will keep you healthy. — Photo by Pankaj Sharma
WITH summers almost here, winter layers of woollies are being shed one by one. But the layers of fat, accumulated through the winter goodies refuse to go that easily. So join a gym, increase your workout time, limit and balance your calorie intake.
Simple! isn't it! No? It is not. You suffer from 'excusitis'? You are lazy? You don't have the time? You are looking for an easy way out? Well! We have made your task easier. All you need to do is to make a few dietary changes and some tiny lifestyle changes to beat the flab.
Get moving
Think active. Whatever your age, physical activity should an integral part of your life. Human body was not designed for being sedentary. But with more and more people with desk-bound jobs; and recreation being limited to net surfing or watching TV, obesity has become a way of life. Certain changes are a must for a healthy lifestyle. If you want to beat the fat, keep on moving. Junk the remote control, walk to market, do house work, dusting, avoid elevator, take to stairs, park your car some distance away and walk to your destination. Just 30 minutes of any brisk activity in a day can provide you with an adequate workout.
Playing is not exercise
Take up some sport, learn a new game. While an exercise routine can be dull and difficult to stick to, playing a game of tennis, or badminton, at least thrice a week can sure burn calories. Even a game of frisbee or cricket with your child can do wonders for your waistline.
It is the time to disco!
Hitting the dance floor can be as effective as a trip to the gym but not so boring. Dancing provides a good cardiovascular activity. A dance session of 45 minutes can burn up 250-500 calories. A great way to reduce fat, cholesterol and blood pressure. Also when you are having a good time, the body releases the happy hormone serotonin, which reduces stress and BP. Bhangra, salsa, ballet, tango, waltz can burn calories, tone muscle, improve balance and your social life as well as self esteem.
Shopping therapy
A trip of the market can lighten up not only your pocket but your bulk as well. As hour's brisk shopping spree can burn up to 200 calories. Happy shopping!
Eat healthy
Eat nutritious, balanced meals. Watch your calorie intake but don't go overboard in reducing calories.
Eat natural food
Include more fruits, raw veggies, fresh juices but avoid tinned and canned stuff, advises Dr Neelu Malhotra, Diet Consultant, Silver Oaks, Mohali.
Eat but not overeat
Help yourself to smaller portions. It will satisfy your cravings and taste both. Avoid second helpings if you can.
Eat small meals
Instead of three square meals, spread your total calorie intake into six small meals. It will keep your metabolism active throughout the day.
Enjoy food
Concentrate on your meal. Avoid watching TV at meal times, you will only end up gobbling up your food. Eat slowly and chew your food properly.
Eat Fibre-rich foods
Include starch and carbohydrates in your daily diet. Dietary fibre helps in reducing weight, diabetes, sucks up fat and makes you more energetic.
Get enough proteins
Proteins are necessary for muscle-building. The more muscle you have more fat you will burn.
Outsmart fat
Avoid saturated fats (butter, ghee) and use more of vegetable oils (olive, sunflower, soy bean, mustard etc). Employ intelligent cooking methods to reduce fat in your meals. Opt for low or no-fat cooking methods like grilling, baking, streaming, stir frying. Use non-stick pans.
Don't skip meals
If you skip a meal, you will only end up eating more at the next meal. Most important, never skip breakfast.
Avoid extra sodium and sugar
Reduce intake of pickles, chutneys, chips fries etc. Also avoid sugary snacks, biscuits, cakes etc. Instead fill up on sprouts, fruits, salads, dhokla, idlis, unsalted pop corns, bhune chane, murmura, roasted namkeens, wheat puffs.
Tank up on enough H2O
Drink at least 3 litres of water. Water can wash away toxins from the body, detoxifying it in the process. Human body is made up of 65 per cent water. A thin person has more water in his body than a fat one. Men also have more water percentage in their body as compared to women. Water acts a solvent in all stages of digestion. Very cold water or other liquids can slow down digestion. Water acts as a lubricant and prevents friction between body joints. It regulates body temperature. Guzzle up more water in summers than in winters because in summers there is fluid or water loss through perspiration and evaporation from lungs and skin.
Tip: Don't drink water with your meals. Always have it before or after a meal. Having water during the meal can wash away gastric juices, which in turn will take undigested food to stomach which will slow down its metabolic process. If you must have a fluid with meals, sip lassi or lime water.
Invest in pet instead of a gym membership
Having a pet reduces stress, and anxiety, soothes nerves and makes you more tolerant and patient. Taking your dog out for a walk or having a romp with it in the garden can burn some calories.