Dry eye condition: A rising menace
by Dr R. Kumar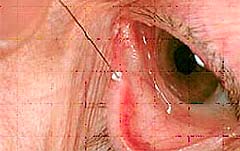 Dry eye condition is one of the most common problems neglected by eye specialists. It is thought to affect approximately 60 million Americans; imagine how many Indians? A visiting eye specialist from Delhi, Dr B. Patnaik, patted himself on the back recently for reducing the level of pollution in Delhi, through the use of CNG as a fuel for vehicles and thus reducing the incidence of dry eye in the National Capital.

In Chandigarh, we are not so lucky. With an ever increasing number of polluting vehicles in City Beautiful, we are being made to smoke through our eyes. Who is not suffering? Truly, the incidence of troublesome dry eye condition is rising fast.

It is a chronic disease that occurs from either decreased tear production or increased tear film evaporation. Typically, the tears become too salty, causing chronic burning and a sandy-gritty irritation in the eyes. Such symptoms are taken as a sign of infection or allergy by patients and doctors alike and that leads to an uncalled for use of antibiotics and steroid drops, with further aggravation of the dry eye condition. Ageing, increased computer use, increased LASIK surgeries, and an increase in the incidence of diabetes are some of the factors contributing to its increasing prevalence. In a study at Chandigarh, we found that the incidence of dry eye is 2 per cent in the young population, but 50 per cent among the 50 plus.

Tears comprise three layers. The mucus layer coats the cornea, forming a foundation so that the tear film can adhere to the eye. The middle aqueous layer provides moisture and supplies oxygen and other important nutrients to the cornea. This layer is made of 98 per cent water along with small amounts of salt, proteins and other compounds. The outer layer is an oily film that seals the tear film on the eye and helps to prevent evaporation. With each blink, the eyelids spread the tears over the eye.

One of the most common reasons for dryness is simply the ageing process. Many other factors such as hot, dry or windy climates, high altitudes, air-conditioning and cigarette smoke also cause dry eyes. Many people find their eyes become irritating when reading or working on a computer or watching TV for a long time. Certain medications, thyroid conditions, vitamin A deficiency and diseases such as Parkinson's and the menopausal zone in women can also cause dryness.

Symptoms:

Itching, burning, irritation, redness, blurred vision that improves with blinking, Excessive tearing, increased discomfort after periods of reading, watching TV, or working on a computer. Eye-specialists use several methods to test dry eyes.

Treatment: When it comes to treating dry eyes, everyone's needs are different. Many find relief simply from using artificial tears on a regular basis. Some of these products are watery and alleviate the symptoms temporarily; others are thicker and adhere to the eye longer. Preservative-free tears are recommended because they are the most soothing and have fewer additives that could potentially irritate. Closing the opening of the tear drain in the eyelid with special inserts called punctal plugs is another option. This works like closing a sink drain with a stopper. This may be done on a temporary basis with a dissolvable collagen plug, or permanently with a silicone plug. Some ophthalmologists choose to avoid plugs and decide to close the puncta (tear duct openings) with cautery. Two areas of research on the forefront of the dry eye are the use of topical androgens and cyclosporin.

Dos & Don'ts: Take plenty of water, blink frequently, and use goggles to prevent polluted air and sunrays, suspect a dry eye condition and use artificial tears and fish and green vegetables in diet in plenty Don't rub the eyes; don't overuse the contact lenses; don't expose the eyes to wind, heat, airconditioner; don't look at the screen of the TV/computer continuously; don't neglect eye discomfort; consult an eye specialist early.