PDP, Cong differ on J&K Bill
S.P. Sharma
Tribune News Service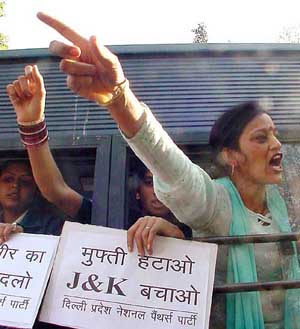 Activists of the Panthers Party protest at the AICC office demanding removal of the Chief Minister of Jammu and Kashmir. — Tribune photo by Mukesh Aggarwal
Jammu, March 9
The ruling coalition partners, the Congress and the PDP, have taken different postures on the controversial Bill seeking to deny state subject rights to girls marrying outsiders.
While the Congress wants the Bill to be referred to a select committee when it is introduced in the Legislative Council here on March 11, the PDP was sticking to its stand that the Bill should be passed.
PDP president Mehbooba Mufti has said that there was nothing unconstitutional in the Bill and it would be the number game that would decide its fate in the council.
On the other hand, Mr Tariq Hameed Karra, a PDP MLC, who is considered a close lieutenant of Mufti Mohammad Sayed, has said in a statement that his party would not hesitate to seek fresh mandate of the people in case their basic rights guaranteed by the Constitution of India are jeopardised for some party's compulsions. His indirect reference was to the Congress that has taken a U-turn on the issue after supporting the Bill in the Assembly.
With the opposition National Conference (NC) playing a spoilsport, the situation was becoming complicated and there was a possibility that the Bill may fall in the council in case the coalition partners did not relent.
The whip issued by the NC to all its 15 members in the council to be present on Thursday and vote for the Bill, would make things difficult for the coalition that has a combined strength of 14. They include Mr Bhim Singh (Panthers Party) who was against the Bill and has threatened to withdraw support on the issue.
However, with the present composition of the House, it would be difficult for any party to get the Bill pushed through as a two-thirds majority of 24 members was required for the Constitutional amendment to deny the property rights to women. The effective strength of the council at the moment is 30.
As things stand today, the NC might be in a position to muster support of the lone CPI member, but that would not help as its strength would increase to 15 as the chairman of the council, Mr Abdul Rashid Dar, who belongs to the NC, has a casting vote.
The eight members of the Congress would make all-out efforts to sent the Bill to a select committee.
It is to be seen as to how the five-member PDP of the Mufti handles the situation in view of the party leaders reiterating their support to the Bill. The Mufti is himself a member of the Upper House. Even one wrong step was bound to damage the PDP.
Ms Mehbooba said that there was a "very strong" sentiment of the people in support of the Bill. However, care had to be taken so that the developments on the issue did not affect the dialogue that Deputy Prime Minister L.K. Advani was having with the separatists.