M A I N N E W S
Tension in Poohla village
SGPC threat to 'liberate' gurdwara
Varinder Walia
Tribune News Service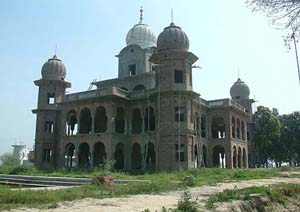 The historic Gurdwara Shaheed Bhai Taroo Singh in the village of Poohla which is under control of controversial Nihang chief Ajit Singh Poohla. — Photo by Rajiv Sharma
Poohla (Tarn Taran), March 9
Tension prevails in the village even as the Poohla Eviction Committee led by Col G.S. Sandhu has decided to take out a procession from Pahuwind to Poohla tomorrow to oust Ajit Singh Poohla, the chief of the Tarna Dal, from the village.
Though the police has withdrawn all weapons and security from the controversial Nihang chief, many persons armed with licensed weapons are providing him security cover round the clock.
Mr Parmjit Singh Gill, DIG (border range), said the police would not allow anybody to take law into his hand. He warned that stern action would be taken against those indulging in any unlawful activity. Mr Gill maintained that the police might not allow taking out of procession if there was apprehension of law and order problem. Mr Harminder Singh Aulakh, SP (headquarters), said elaborate security arrangements were being made to meet any eventuality.
Meanwhile, the SGPC has also threatened to send its task force to liberate the historic Gurdwara Shaheed Bhai Taroo Ji from the Tarna Dal. SGPC secretary Manjit Singh Calcutta said as per the Sikh Gurdwara Act, 1925, the SGPC was morally and legally bound to get the historic gurdwara liberated from the Nihang chief. Mr Calcutta said the SGPC would also endeavour to get another historic Sikh shrine — Gurdwara Damdama Sahib (Srihargobidpur) vacated from Nihangs. Expressing shock over releasing Poohla on bail by an SHO, Mr Calcutta alleged that Poohla had been indulging in sacrilege of gurdwaras.
On the other hand, the Nihang chief declared that the 'sewadars' won't hand over the gurdwaras under Tarna Dal's control to the SGPC or local Gurdwara Committee. Talking to TNS, Poohla said his followers would resist any attempt of taking control of the historic gurdwaras. He claimed that Tarna Dal had constructed these gurdwaras and introduced complete "maryada" there. Poohla denied that he was on the run as he had attended the marriage ceremonies of the kin of Congress ministers and daughter of SSP, Amritsar during the said period.
Meanwhile, Col Sandhu has said he would move the Punjab and Haryana High Court against the release of Poohla on bail.