Stunning view of Saturn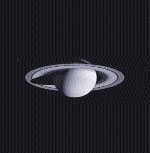 Four months before its scheduled arrival at Saturn, the Cassini-Huygens spacecraft sent its best colour postcard back to Earth of the ringed world. The spacecraft is expected to send weekly postcards, as it gets closer to the ringed giant.
The view from Cassini shows Saturn growing larger and more defined as the spacecraft nears a July 1, 2004, arrival date. On February 9, Cassini's narrow angle camera, one of two cameras onboard the spacecraft, took a series of exposures through different filters, which were combined to form the colour image released.
"We very much want everyone to enjoy Cassini's tour of this magnificent planetary system," said Dr. Carolyn Porco, leader of the Cassini imaging science team at the Space Science Institute in Boulder, Colo. "And I can say right now the views out the window will be stunning."
New types of transistors
Hungry for details, dozens of microcircuit specialists surrounded Tahir Ghani after his talk last December at an annual microelectronics conference in Washington, D.C. Ghani, a senior-level engineer with the chip giant Intel in Hillsboro, Ore., had sketchily revealed two new types of transistors that his company was getting ready to use in its Pentium microprocessors and Centrino chips. After his talk, Ghani remained cagey. After all, his inquisitors were from IBM, Taiwan Semiconduc-tor Manufacturing Com-pany, NEC, and other rival chip makers. All these companies are confronted by the same daunting challenge: to maintain the swift pace of miniaturisation even while their mainstay manufacturing methods are reaching their limits.
For decades, chip manufacturers have made transistors faster by making them smaller. Lately, however, this approach has begun to unravel.
Farthest known galaxy
Using the ISAAC near-infrared instrument on ESO's Very Large Telescope, and the magnification effect of a gravitational lens, a team of French and Swiss astronomers (2) has found several faint galaxies believed to be the most remote known.
Further spectroscopic studies of one of these candidates has provided a strong case for what is now the new record holder - and by far - of the most distant galaxy known in the universe.
Named Abell 1835 IR1916, the newly discovered galaxy has a redshift of 10 [3] and is located about 13,230 million light-years away. It is therefore seen at a time when the universe was merely 470 million years young, that is, barely 3 per cent of its current age.
This primeval galaxy appears to be ten thousand times less massive than our Galaxy, the Milky Way. It might well be among the first class of objects which put an end to the Dark Ages of the universe.