"India need European hockey coaches"
Prabhjot Singh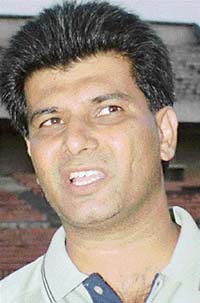 Former Malaysian skipper Sarjit Singh. — Tribune photo

"IF you are looking for results in hockey, you must go for a European or Australian coach," says Olympian and former Malaysian skipper Sarjit Singh. "Asians may have been better or more accomplished than players from other parts of the world but coaching is a different ball game," he says.
"We cannot match the scientific and strategic planning of European and Australian coaches. See Pakistan and Malaysia. Ever since they engaged foreign coaches, their results have improved considerably," adds Sarjit. A finance professional, Sarjit has taken to coaching part time after retiring from competitive hockey.
Sarjit Singh not only represented Malaysia in all major hockey events, including Olympic Games, World Cup, Asia Cup and Asian Games, but has also been associated with the training of the junior team. His parents come from Punjab. He was in the city with the Malaysian junior team which was here to play the fourth and last Test.
Though he took the team to Jalandhar for an exhibition game with the Ramesh Hockey Academy, he could not spare time to visit the villages of his father and mother in Amritsar.
"I have been with the Malaysian junior team for more than six months. I have learnt a lot from Paul Lissek, the German coach, who has been training our national (senior) team. He is a giant and after playing in more than 200 internationals, including Olympic Games, World Cup, Asian Games and other tournaments, I find myself nowhere compared with Paul," admits Sarjit.
Hockey has become very scientific and technical. As such, strategies, game plans and training methods which were used in the 80s and 90s have become redundant now.
Both Europeans and Australians have such a strong command over the game that the rest of world has no choice but to emulate them. Gone are the days when Olympians from India and Pakistan were welcome for coaching assignments anywhere in the world. Many of the best hockey coaches never played the game at the international level. But their ability to analyse moves and strategies and to counter opponents on the basis of their strengths and weaknesses have put the Asian teams under pressure, says Sarjit.
"We lost all four Test matches against India Juniors. We will play four Test matches in Pakistan before we return home on March 15. In April, we will be back in Pakistan to play in the Asia Cup for Juniors. These matches will be held in Karachi from April 20. We have Sri Lanka, Bangladesh, China and India in our pool.
"We came here to learn what our weaknesses were and so that we could improve our game in time for the Karachi tournament. I am satisfied with the performance of my boys. Four of my boys are in the senior team, playing in the Olympic qualifiers at Madrid. One player, who was a member of the bronze-medal-winning Malaysian team in the 2002 Asian Games, is injured.
"The present Indian junior team is good. It has talent and is well knit. I hope both India and Malaysia qualify for the semi-finals in the Karachi tournament," he added.