STAMPED IMPRESSIONS
She redesigned her life
Reeta Sharma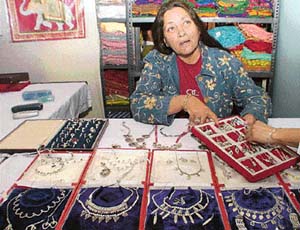 Anuradha's hard work and determination makes her a role model for youth
THERE are a number of cases every year of youngsters who commit suicide to save themselves from circumstances which they consider unbearable. They even choose to turn to alcohol or drugs instead of fighting challenges in their life.
In such a depressing scenario, it is heartening to come across individuals who have tackled obstacles to carve out a life which is constructive and meaningful. I would like to tell the story about one such person who could be a role model for youngsters facing difficult times.
I happened to meet Anuradha, who is from Jaipur, at an exhibition of silver jewellery which she was holding in Chandigarh. Though I do not have any great interest in jewellery but her eye-catching creations drew me to her stall. A casual conversation turned so gripping that I was motivated to write about her.
Anuradha's life is an example of how "creativity and sensitivity" cannot be suppressed if one is optimistic and wants to achieve something in life. If one does not lose heart, one's talents will blossom even in adverse circumstances. Anuradha was born in Bhucho Mandi, a backward area in Bathinda. She studied there up to Class VIII and then shifted to Delhi to finish her high school. For her graduation, she went to a college in Jalandhar. She was, however, unable to complete her graduation, for she was married in the very first year of graduation, in 1961.
Though she was saddled with the responsibilities expected of a daughter-in-law of a huge family and gave birth to four children, one after another, the "creative and sensitive" streak in her urged her to do something more with her life. In 1974, when she saw some students filling in forms for BA first year at her in-laws' home in Shri Karanpur village in Ganganagar district of Rajasthan,her inner voice beckoned her to complete her graduation. Despite numerous responsibilities, she completed her graduation with distinction and then proceeded to complete B.Ed with impressive grades.
Without anyone encouraging or motivating her or even lending approval to her decision, Anuradha started a school of her own in 1978. With each passing year, not only did the number of children increase but a class too was added to the school. But running a school was not enough to satiate her "creativity". Without attending any workshop or adhering to any theories from the West or from the so-called intelligentsia, she improvised ways to impart education in her school by experimenting with visual aids. Stressing on values and etiquette, she taught not only the students but also their mothers. She would take her students to the fields or river banks and give lessons there.
Anuradha also tried her hand at making a nutritious atta. She said, "My husband had become diabetic and the doctors wanted him to consume a particular kind of atta. When I tried my hand at making atta suitable for such patients, Ialso learnt to make nutritious atta for consumption of normal people. It was then that I discovered that a camel-driven chakki of my in-laws was lying dumped and deserted. I got it repaired and experimented with my new recipe. I then sent a sample to the PUSA institute for testing. They not only declared it category 'A' health atta but also suggested that I obtain a patent for it."
According to Anuradha, the atta we all eat is nothing but dead flour. "In the modern world, atta is being prepared with the help of electric grinders. The heat of these grinders kills all the enzymes and oils in the wheat. But the camel-driven or the hand-operated grinders in rural areas do 'cool grinding', and the atta thus made retains its natural nutrients.
Anuradha's multi-faceted personality made her take an interest in Rajasthan daris too. She tried her own combinations and patterns with vegetable colours. She carried the collections for exhibitions at Cottage Emporium in Delhi. All her exhibits were lapped up and Handicrafts Handloom Export Promotion Council placed a large order with her.
Anuradha finally realised that it was designing silver jewellery which gave her the optimum satisfaction. She opened her own factory and began designing jewellery. She soon also began exporting her creations to Canada and the USA. Her tireless journey continues.