TELEVISION
Season of shifts from big screen to small frame
Shekhar on a song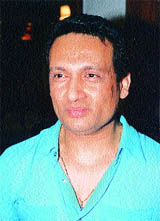 Shekhar Suman: From wordsmith to music man
GUESS what's the latest passion of Shekhar Suman? It's singing. And he is all set to release his first music album Kuch Khawab Aise.
After a dream run on the small screen that turned this flop star into a superstar, Shekhar is as excited about his new career move as any debutant.
"My expressions and feelings come out in this album. I hope people like it," says the wizard of wit who has also penned the lyrics.
But music is not the end of his ambition. Shekhar now wants to dabble in 'meaningful cinema' and is hunting for a script for which he has signed Prakash (Gangajal) Jha.
"I am looking for something really mind-blowing which would be worth the time and money of the viewers." Carry on Shekhar we are waiting.
Love's not in the air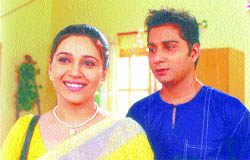 Aneja & Chhaya in Astitva—Ek Prem Kahani: Marital woes
It's news that will bring a much-needed smile on the faces of Zee TV managers. Amidst the clutter of soaps Astitva – Ek Prem Kahani has emerged as the channel's trump card.
Completing a 200 episode-run, Astitva is devoid of overt melodrama and is a compelling tale of 37-year-old Dr. Simran who realises that her husband—who is younger than her—- is cheating.
Free of unnecessary twists and malicious plots, the storyline revolves around the duo's rocky relationship aaand is aired from Sunday to Wednesday at 9 pm.
The trials of a marriage gone wrong are dealt with delicately and the performances by Harsh Chhaya and Nikki Aneja are so superb that both were honoured with the Best Actor and Best Actress titles recently at the Indian Television Academy Awards ceremony.
So tune into Zee TV to capture the mesmerising saga of a marriage gone wrong.
Take three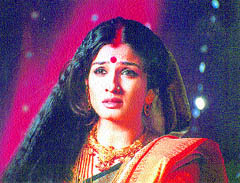 Raveena in Sahib Biwi Ghulam…New Sahara celebrity.
Sahara is proving to be quite a sahara for married Bollywood stars. Karishma –A Miracle of Destiny was made when the film industry was abuzz with news that Karishma was marrying Abhishek Bachchan. Though the marriage didn't happen, the serial did.
Then came Malini Iyer, the comeback vehicle for the 90s' leading lady Sridevi. And now the Mast-Mast girl Raveena Tondon is all set to make her debut on the small screen as Choti Bahu in Bimal Mitra's Sahib Bibi Aur Ghulam, Monday to Thursday on Sahara.
"Besides it being a great role, what I am enjoying most is the exotic Bengali saris that I get to wear," says Raveena, who has become a reel wife just after becoming a real life wife.
Karishma, Sridevi and Raveena. Who next? New moms Madhuri and Juhie? Who can tell. After all, stars crave for a re-launch after their hour of glory.
Old wine in new bottle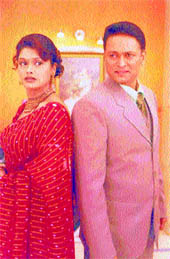 Kehna Hai Kuch Mujhko: Where's the change?
Even as channels and scriptwriters search for newer themes and innovative storylines keeping in mind the changing tastes of Gen Y, Ekta Kapoor strongly believes that nothing changes and viewers never tire of the same stuff.
And though she may call her latest soap Kkehna Hai Kuch Mujhko a new-age family drama, there is neither newness nor drama. Surprisingly, it's being aired on Sony that is revamping its programming with slick shows like C.I.D. and Jassi Jaisi Koi Nahin
`A0Set in 'contemporary' India, Kkehna Hai Kuch Mujhko revolves around a female protagonist who devotes her entire life to being a dutiful wife and doting mother but somewhere along the line she loses her own identity.
A typical Balaji fare. And if you are overcome by a strong sense of d`E9j`E0 vu don't be surprised. Simply because there are no surprises in store here. Not even the spelling of Kkehna. — Newsmen Features
Surfing channels
She's been around for over five years yet she has started making waves only now. The reason is not far to seek. Tarana Singh started her career as an anchor of Subha Savere. And then went on to do two more serials—Agneepath and Ehsaas-Kahani Ek Ghar Ki.
But the trouble is that all three were for the national network that has a dismal viewership in urban areas. So the charms of this talented girl were lost in cable homes. Aware of this drawback, she has now decided to take control of things and pick up roles in serials on other channels. She plays a vamp in Mansha on Zee TV and did cameos in Jassi Jaisi Koi Nahi and Kahin To Hoga.
Though she doesn't discount DD that gave her the vital break, she says it is time to move on to newer pastures. And as of now it may not necessarily be the lead role. Anything would do as long as there are viewers who watch it.
Space for some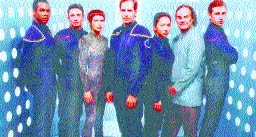 Enterprise: Another inter-galactic mission
For all you gizmo geeks Star World is all set to lift your spirits with Enterprise, Saturdays 9 p.m. The space adventure is set a century before the Star Trek series when interstellar travel was still in its fancy.
There's captain Jonathan Archer and Sub-Commander T'Pol, who believes that humans aren't ready to take on the challenges of space. There's communication officer Hoshi Sato who has a gift for languages and Dr. Phlox, who practises galactic medicine.
For some this might be old wine but the channel is confident there are still a number of diehard lovers of space—-the final frontier who will find the series an out of the world experience.