Nehra to miss Rawalpindi tie; Saurav doubtful
M. R. Mishra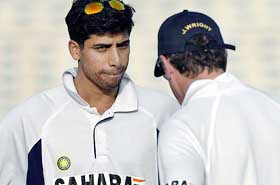 Ashish Nehra (L) listens to coach John Wright during a practice session at Rawalpindi stadium on Monday. Nehra will miss the second ODI here due to an ankle injury.
— AFP photo
Rawalpindi, March 15
The Indian cricket team received a big jolt ahead of their second match of the one-day series against Pakistan with Ashish Nehra being ruled out due to injury and captain Saurav Ganguly a doubtful starter for the day-night tie.
Left-arm paceman Nehra, who bowled a brilliant last over to help India clinch a narrow five-run victory in the first match in Karachi, has been ruled out because of a swollen left ankle, vice-captain Rahul Dravid told reporters here today.
"Nehra has a swollen ankle and will not be selected for the match," he said adding the bowler would be replaced by young left-arm seamer Irfan Pathan. Dravid said Ganguly was running a "mild fever" and his fitness would have to be assessed before a decision is taken on his availability.
"Saurav had a mild fever and did not practise today. Physio Andrew (Leipus) will assess his situation tomorrow before a final decision is taken on him," he said.
Stylish middle-order batsman VVS Laxman, who had to sit out of the Karachi series-opener due to a knee injury, was expected to be included in the eleven in place of Hemang Badani.
"Laxman is doing much better. We will wait till tomorrow. We are hopeful that he will be fully fit," Dravid said.
The injury to Nehra means further trouble for India's already depleted bowling attack which was clobbered by the Pakistani batsmen, in particular by captain Inzamam-ul Haq, in the Karachi thriller. But Dravid, put up a brave front today, saying the team was not unduly worried by the spate of injuries and had the necessary back-up.
"We have the back-up players and they will get the opportunity," he said as India sought to consolidate their 1-0 lead in the five-match series.
India would also be keen to plug their bowling loopholes to avoid a repeat of the nerve-wracking experience in Karachi when they allowed the opposition to come "too close for comfort".
Wright had a few words with the young bowlers yesterday and called on them to put up a more disciplined performance.
"We bowled well in the first 15 overs but the middle overs were a problem. It is an area where we have to improve. We cannot concede more than seven runs in the middle overs."
The coach hoped his bowlers would be able to learn from their mistakes and come up with a more inspiring performance in what he described as a "key game" for both sides.
"It is a key game for both the sides. Some of the nerves may have gone out. Both the sides had a chance to look at the strength and weaknesses and it should be a close series," Wright said.
The bowling might be a problem but the Indian batting was simply sublime in Karachi.
Wright said Laxman, who had to sit out the opening encounter with a stiff left knee, was expected to feature in the eleven.
"We anticipate Laxman to be ready. He is having no problems while batting but fielding is a problem. We will see how he does tomorrow before taking a decision. We are hoping that he will be fully fit," Wright said.
The Pakistani camp has also received a shot in the arm with paceman Shabbir Ahmed, who was ruled out of the first match due to a hand injury, expected to be fit for the match, giving more sting to their famed bowling line up.
"Shabbir is doing well and we expect him to be fit. He should be eligible for selection," Pakistan team manager Haroon Rashid said.
The Pakistani bowling also did not live upto expectations in Karachi and the large number of extras through wides and no balls gave the Indians nearly five more overs to bat but Rashid said the bowlers will show more discipline in the remaining four matches.
"We have discussed all our weak points. The bowlers know that they did not do a good job. We will improve our all round game and play with more composure," Rashid said.
The absence of a quality sixth bowler in the team proved costly for Pakistan as captain Inzamam-ul Haq had nobody to fall back upon after his frontline bowlers were clobbered all over the park.
— PTI