US to remain Pak's friend, says Powell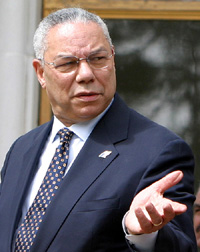 US Secretary of State Colin Powell speaks at a news conference in Kabul on Wednesday. — Reuters photo
Islamabad, March 17
Promising that US would remain a "steadfast friend" of peace-makers in both India and Pakistan, Secretary of State Colin Powell has said American interests in Pakistan were not defined by the state of Indo-Pak relations but by the country's "regional and global importance."
"As India and Pakistan work to resolve their differences, the United States will remain a steadfast friend to the peace-makers on both sides and we will continue to build strong bilateral ties with each country in its own right," Mr Powell, who arrived in Kabul today ahead of his Pakistan visit, wrote in an opinion peace in 'The News' daily.
The US has "enthusiastically" supported the "farsighted steps" toward reconciliation taken by President Pervez Musharraf and Prime Minister Atal Bihari Vajpayee, he said.
"Two years ago, India and Pakistan were spiralling toward conflict. Now, both leaders are shaping a composite dialogue, looking for ways to expand bilateral trade and promoting people-to-people ties, such as the cricket matches," he said.
"America's interest in Pakistan is not defined by the state of India-Pakistan relations, nor driven solely by the need to secure your assistance against terrorism and proliferation. We seek to build a close and enduring partnership with you because we recognise Pakistan's regional and global importance."
Mr Powell also said the US-Pak alliance remains crucial to protecting both the countries, and the world, from terrorism.
"Our joint efforts have put Al-Qaida on the defensive, and we will take the fight to them until (Osama) bin Laden and his supporters are brought to justice, and their networks destroyed," he said.
He said Pakistan was "pressed forward" to fight terrorism and global fight against proliferation of weapons of mass destruction with "conviction and courage."
"The Pakistani people have reached out a hand of reconciliation to their neighbours. On the domestic front, Pakistan is battling extremism and forging ahead with the difficult task of economic reform and democratic institution building," Mr Powell said.
Asserting that US stood by Pakistan in facing the challenges, he said each of the challenges carried "profound implications for regional and global stability."
"In all of these critical efforts, the United States stands with Pakistan in partnership," he said.
He said Mr Bush's proposed five-year $ 3-billion aid package embodies America's "abiding commitment" to Pakistan. "The package contains an economic component, which supports poverty reduction and will help Pakistan's citizens prepare for success in a 21st century world." — PTI