Breathing life into glass
Geetu Vaid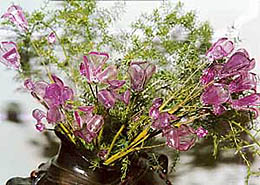 "A thing of beauty is a joy forever,'' said John Keats. And the joy is doubled when the beautiful object is a flower, nature's most delicate and desirous gift more so when it is hand crafted'.
Asha Mankotia, wife of a retired Army officer, and her daughters Lara Bains and Tanya have brought artistic and eye catching glass flowers and candles to the city. The dainty flowers, wreaths, fillers and candles are all hand-crafted and hand-painted by Asha.
Telling about her art, Asha reminisces about a Parsi neighbour whom she met way back in 1963-64 in Pune. She was fascinated by the way her deft fingers breathed life into lifeless glass, moulding it into dainty flowers.
This combined with an artistic bent of mind and love for gardening made her start making glass items about three years back.
''Gathering raw material was cumbersome and the first few attempts were crude but practice honed my skill.'' And sure enough the finesse of deft fingers and a creative mind reflect in her work. The delicate flowers in red, orange, lilac, and pink are complete in minute details.
Initially, she started making bouquets for special friends as she believes ''a handmade gift is the ultimate way of showing your love''.
Soon her son and both daughters, too, joined her. It was her younger daughter Tanya who got the first order for her from Maurya Sheraton in New Delhi. There has been no looking back since then.
Roses, zinia, tulips, lilies, starry, orchids, freesia at Rs 135 to Rs 180 a stem, these glass blooms are not very cheap but the exclusivity and uniqueness of each piece makes it a must have, says Lara manages the marketing for the flowers.
Each petal is moulded separately, joined and hand-painted and stems are wrapped to complete a flower. The glass used is of good quality and is quite sturdy.
Candles ranging from Rs 115 to 200, wine glass holders for Rs 225, fillers for Rs 30 per stem, wreaths for Rs 160 to 1450, bouquets from Rs 500 to 850, table decorations for Rs 20-25 per piece it is quite a display.
The exhibition will be on till Sunday at Club Kebab in Sector 35.