Veteran athletes do city proud
Anil Datt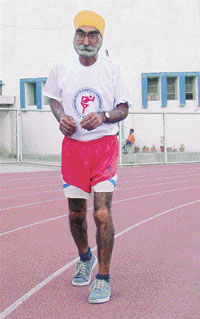 Ludhiana, March 19
Young athletes are a common sight at the local Guru Nanak Stadium. At times, veterans too can be spotted. Jagjit Singh and Charan Singh are two such persons who can match their younger counterparts in stamina, sprints and hill training.
Only recently they returned after taking part in the Silver Jubilee National Veterans Athletics Meet conducted by the Masters Athletics Federation of India in Hyderabad from March 4 to March 7.
While Jagjit Singh(63) brought laurels to the city by winning two silver medals (800 m and 4x400 m relay race) and a bronze in the 400 m race, Charan Singh (68) narrowly missed a medal. He participated in the 5000 m race, besides 800 m and 1500m races.
Jagjit Singh, a retired income tax inspector, had taken part regularly in the Central Revenue Sports Meets while in service and had won more than 70 medals at the north zone and national level tournaments.
After his retirement in 2001, he took part in three national veterans' meets. In 2002 at Bangalore, Jagjit bagged a bronze medal in the 800 m race and clinched a silver medal in the same event the next year at Manipur.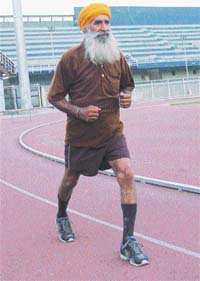 This year at Hyderabad, he won three medals, including two silver. He aims at winning a gold medal during the next edition of the meet to be held at Chennai.
He said they were overwhelmed by the gesture shown by the Andhra Pradesh Governor, Mr Surjit Singh Barnala, who invited the members of the Punjab contingent to tea. Mr Barnala had appreciated their achievements and said they were the role models for the younger generation.
About his schedule, he said he along with Charan Singh practiced at the stadium for about four hours every day. He also cycled around 25 km daily.
Charan Singh met Jagjit about two years ago at a road race in Ludhiana where Jagjit came first and Charan Singh third. During this three-year period, Charan Singh performed well in the veterans' state-level meets.
In the 65 plus category, Charan Singh won a gold medal and a bronze in the 5000 m and 1500 m race, respectively, during the Punjab Masters Athletics Meet at Jalandhar in 2003. In November, he bagged a gold (5000 m) and silver medals in 800 m and 1500 m races at the state-level meet at Sangrur.
In addition to athletics, Charan Singh organises free eye camps and holds immunisation camps for the poor.
They said the present generation was leading a sedentary lifestyle and it was telling on its health. They urged the government to provide adequate infrastructure for sports for the youth.