Pioneers of women's health in Punjab
Manpreet Kaur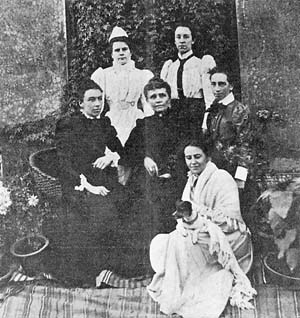 Edith Brown (seated extreme right) along with other women medical missionaries, 1900
NOTHING quite so distinctly highlights the medical work for women's health in colonial Punjab as the mission hospitals started by the women mission doctors. These hospitals shaped the history of medicine for local women. A number of such hospitals serve the ailing even today. A study into the life of the women medical missionaries reveals their dual role as 'evangelists' and 'doctors'.
It all began with the Charter Act of 1813, which lifted the ban on the missionary entry into India. A number of Protestant missionaries came under various denominations to preach the gospel. Initially, women were sent as escorts with men as their wives or sisters. Later, they acquired a new role as social workers. Medical work formed a potent part of Christian evangelism. Among the medical missions the women played a lead role. There was great diversity to prepare them. The candidates came in connection with the Board of Missions, who further took steps to send qualified women to the field. In a country like India where native women were forbidden by custom and religion to consult male physicians, medical service was rendered by several women who received their training as Doctor of Medicine. Most of the American women physicians were graduates from Women's Medical College, Pennsylvania, whereas the English doctors were from the London School of Medicine.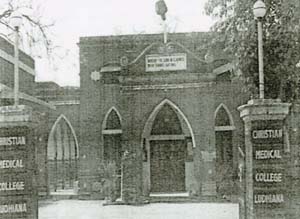 The entrance of the old building of Christian Medical College, Ludhiana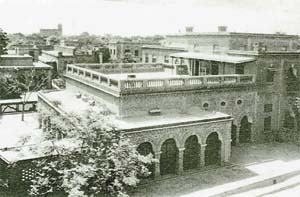 Aerial view of CMC, Ludhiana
In Punjab, coming of missionaries gained momentum after its annexation in 1849. Of the mission societies, the American Presbyterians were the first to start mission work, followed by others. They decided to come together as they believed this would make it possible to establish well-equipped medical institutions for a larger number of patients all over Punjab. The Church of Zenana Mission opened the St. Catherine's Hospital for Women in Amritsar in 1884. Aceican Presbyterians built around half a dozen hospitals for women. Anna Fullerton built a dispensary for women and children at Fatehgarh in 1904, which later developed into a Memorial Hospital. The most significant was the Philadelphia Hospital for Women established in 1898 by Jessica Carelton in Ambala.
Another notable work was that of Dr. Edith Brown, of the Baptist Mission of Great Britain, who came to India in 1891. After her few years work in the Charlotte Hospital, Ludhiana, with Dr. Rose Greenfield, she strongly felt the need to train the Indian women who would take care of the women patients. Very shortly a conference of the mission doctors form North India was held in Ludhiana to consider the matter. The result of which was the opening of the first medical school for women in India as the North School of Medicine in 1894. The hospital popularly known as "Miss Brown's Hospital" became well known among the locals. By 1916, Ludhiana medical graduates had proved their worth that made the Punjab Government recognise the school as the Women's Christian Medical College.
The close meetings with the patients acquainted the missionaries with the health relief methods of the dais/midwives. The missionaries claimed a high infant mortality rate and poor health amongst the indigenous women mainly due to the ignorance of the dais.
To improve the prevalent condition, efforts were made to train them by the missionaries and the Punjab Government. The Central Midwives Board for the Punjab was created in 1917. This was brought into effect in a few places where suitable female missions existed. In the succeeding years there was a steady rise in the number of hospitals. By 1929, there were 21 mission hospitals in Punjab, out of which 17 were for women. With institutionalising in progress, the number of medical graduates increased. In 1940-41 there were 400 graduates in Ludhiana out of which, 120 took work in mission hospitals. The Government acknowledged the impetus of the mission work. The Kaiser-I-Hind medal was offered to Dr. Jessica Carleton for her services in 1926. Edith Brown was honored Dame Commander of the British Empire by King George V in 1932.
In the following years another type of 'women's work' commenced by the missionary doctors was the zenana visitation. It was felt that there was a special need to reach Punjab women in the zenanas, who were reluctant to go to the hospitals. Hence, women medical missionaries went to look up the sick at home. Despite the somewhat fear and resistance amid masses, the native women were affected by the discourse of the women missionaries. In the first place, the missionaries had begun the process of breaking down the barriers in way of women's health, bringing awareness amongst them and secondly there was a change in the behavioural attitudes of the Punjabi women. The women medical missionaries presented them an alternative Indian womanhood; spinsterhood and late marriages were modelled as respected options. Nonetheless, the missionaries' aims remained primarily evangelistic. Baptism was, however, extremely rare. But the success of their work could be seen when the missionary-run hospitals had far-reaching results than the government run hospitals in terms of health care for women.
The year 1947 was truly a year of crisis. Partition of Punjab brought 90,000 Muslims from Ludhiana and the entrance of 1,50,000 Hindus and Sikhs. In the resulting riots, mission hospitals were flooded with casualties. The then Principal, Dr. Aileen M. Pollock, of Ludhiana's Christian Medical College overnight made the hospital open for men as well as for women and children providing immediate medical relief. The efficacy of the mission hospitals could be witnessed in the coming years. In 1957, after the upgradation of the Christian Medical College in Ludhiana, the first batch of male and female students passed out receiving the M.B.B.S. The exemplary achievement of these prevailing medical institutions is the paradigm of early mission work.

Social monitor
Married to loneliness
Humra Quraishi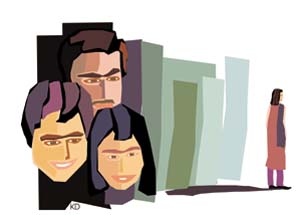 WHEN several of my married friends suggested setting up a club for the 'lonely singleton' as they'd put it, I was taken aback . "But you people are all married," I almost screamed on their faces. They screamed back: "It's all a fa`E7ade yaar. The spouse is never there and even if he is, we don't talk to each other, don't eat or sit together, leave alone have sex. We snore in our respective bedrooms. Even if my head is bursting with a migraine there's no one to hear my cries for help. The undercurrent of tension in the house is eating me up, making me feel ill."
Marriage counsellors and psychiatrists in Delhi are affirming that there's an upswing in the graph of unhappy marriages, leaving more and more people lonely and depressed. "Very often, men and women in their 60s and even 50s come to see me; they start off by talking of depression but soon they start recounting details of the unhappy marriage in which they are trapped. This, in turn, triggers off a whole lot of ailments `85" says an eminent psychiatrist, adding, "As a counsellor, I make the client see the options available. Those who decide to end an unhappy marriage rationalise 'If I've been so unhappy in this marriage all these years and continue this way, if I end it there could be some chance, however slim, of finding some happiness at some stage.' The older the person gets, it becomes more difficult to get out of a marriage for varying reasons. Even if they know it would be better to end the unhappy marriage, they resign themselves to their fate A spouse finds it harder to cope with the situation, especially when the connecting factors ( like children ) are no longer there."
Lonesome twosome
Psychiatrist Achal Bhagat adds: "Like divorce, dead marriages in which people are trapped are a reality of the day. Two major sociological changes are responsible for this flux. One, women have changed and become more outspoken, whereas men haven't moved ahead with the times. Two, patience and desire to communicate is fast decreasing and there are outlets available, like extra-marital affairs. Also, people do not opt for counselling. So many clients come to us just a day before filing for divorce." Marriage counsellor Avdhesh Sharma even goes to the extent of saying "What you're seeing is just the tip of the iceberg vis-a-vis the high percentage of people who're going through unhappy marriages. Some are walking out and many are resorting to relationships outside marriage." And when asked whether the scenario might improve what with the AIDS scare and the emphasis on family ties, he points out, "This scenario can't get better. Some thing is wrong with the very basis, that is with the husband-wife relationship. What with spouses not even sitting together, rarely talking and going out together, obviously there is much loneliness in a marriage. Even in their 80s, people are talking of acute loneliness. Men are looking for a companion not just for emotional support but even for their physical needs `85we get so many letters from men in their 80s who write to us about need for emotional support and a companion for their physical needs,"says Sharma.
In many dead marriages, spouses actually keep quiet if they know that their partner is indulging in a affair or even in a series of affairs. "They keep shut for varying reasons but in many a dead marriage both the husband and wife are having their respective affairs. You will be surprised to know that in many marriages, the two ( husband and wife ) are living like singles, though they share the same house for economic reasons and maintain a social fa`E7ade. They keep to their separate bedrooms and are immersed in work and hectic socialising, so much so that many of my clients have told me that they haven't seen their spouse for days," adds Sharma.
Men and women differ
The wife is quite okay about the fact if the husband is having an affair on the Net because it is safe. Perhaps, loneliness overtakes all those fears and apprehensions of being hit by a dreadful disease. Morality, of course, is dying a slow death. Sociologists are crying themselves hoarse about how loneliness alone could be the biggest scourge of this century. What with longevity hitting the graphs, marriages becoming more like contracts, love shrinking over the years and getting entangled with sex, leaving more and more people with emotional vacuums.
The traditional macho image of the man comes in the way of his seeking professional counselling. He seeks emotional and physical intimacy in his own way, the most common source being at the workplace. Those who retire seek fulfilment in home environs with the nurse or cook or ayah or even his secretary. Unlike women, menopause doesn't really bring a pause in sexual activity for men. Women, on the contrary, don't have to go proving their sensuality but are now definitely thinking of ways and means to cope with loneliness. While aging men are looking for sex, all that a middle-aged woman desperately needs is a good hug. And there starts her dilemma. The clash in wants and needs. As a counsellor points out, "Even today there are double standards in this too. If a man has an extra-marital affair, his wife can do little about it but if she is having one, he can actually wreck her and even make her leave home. While he indulges in his flings openly, she has to be discreet." According to psychologists, murders can take place in such love triangles if the woman is not too discreet and is rebellious enough to flaunt her affair. The husband is not mentally prepared to face this open defiance .
A long way to go
"Yes, there are laws for the woman to enable her to seek divorce and even obtain it but till our social attitudes change, we cannot be called liberal in the real sense," says Mohini Giri who formerly headed the National Women's Commission and now heads the Guild Of Service as well as War Widows Association. "Why is it that in America a woman can seek divorce even at the age of 70 years and re-marry or have a live-in partner without eyebrows being raised? Why can't a woman do so here, in our country? Laws give her the right but the society is still to come to terms with it. If you were to ask my opinion on this I feel that woman has every right to end an unhappy marriage and after that why should she live alone? Yes, she has the right to choose a companion. I would definitely advocate women finding a partners. Why not free living, for single men and women can get very lonely and this gets worse as they age. Until this social stigma isn't removed, we cannot call ourselves a liberal society. All problems related to loneliness and unhappy marriages would be on the rise."
Giri even brushes aside the notion that a woman's needs are basically emotional. "No, she could have physical needs too. What's the harm if she does have physical needs. After all, having sex is a biological need for both men and women it's akin to having food. Why make such a fuss or hue and cry about it?"

Jane Fonda's tryst with Mumbai
Shiv Kumar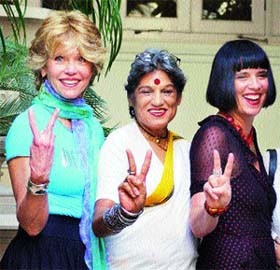 Hollywood actress Jane Fonda (L) together with Indian television and theatre actress Dolly Thakore (centre) and playwright Eve Ensler (right), make a V-sign on International Women's Day in Mumbai. Fonda visited Dharavi, Asia's largest slum, and Sneha, a centre for abandoned women, during her visit. — AFP photo
HOLLYWOOD diva Jane Fonda retraced her steps to Mumbai last fortnight, a full 35 years after her visit to the metro as a flower child.
Awestruck by how the city has developed, Fonda couldn't help recollecting her first trip as part of a trekking expedition. "I remember the poverty which I saw for the first time in my life,' Fonda said after touching down in the city. Mumbai's roads led on to Kolkata and other places and causes and the Oscar-winner-turned- fitness guru was mellower in her latest trip.
In the city on the occasion of International Women's Day, Fonda and fellow celebrities Marisa Tomei and Eve Ensler, author of the Monologues, wowed the Page 3 People with their bits in the play, The Vagina Monologues. The play explores female sexuality and strength through a series of vignettes that at times are funny, sad, graphic or horrifying.
Fonda, 66, said she hoped her involvement in the play would send a message against the exploitation of women and girls in India.
Dwelling on her experiences with Indian women, Fonda says she was impressed by Ela Bhatt of SEWA.
Fonda's itinerary also included a trip to Dharavi, Asia's largest slum, where unending rows of tin shanties struck a chord in her.
Fonda mingled with women in the area. She also visited the Sneha crisis centre set up to help women abandoned by their families.
"I'm very happy to see the way this centre is run," she told a group of newspersons who tailed the exercise guru. "I only hope people would donate more money to such centres regularly rather than giving once and forgetting about it," she said.
"I have fame, money and success but behind the closed door of my marriages I've always given up my power to please the man I was with," Fonda was quoted as having said.