TELEVISION
Lens of a woman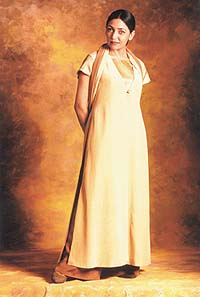 Naval: Clicking in other fields.
SHE too should have passed into the middle ages like her contemporaries. But Deepti Naval displays an uncanny resilience of staying on the bright side of the arclights.
First her entry into the world to TV serials as the directoral lead star of Thoda sa Aasman and Tanav—the first megaserial on AIDS. And then, a complete re-invention as poetess, model, part-time actress and director.
Her latest manifestation is that of a photographer. Recently, she unveiled her exhibition titled 'Images From The Frozen River' wherein she's captured the Zanskar river in Ladakh.
"The river fascinated me ever since I saw it first saw it on BBC," says Deepti.
But the actual shooting was a daunting task as she had to trek for miles with two porters in tow who hauled her equipment. " It was a tough trek but great fun as it also involved setting up tents, collecting wood, lighting fire and cooking food."
What about acting? The answer is quick: " Whenever I am seduced by a good role, I'll pick it up at once. I don't want to end up wearing white wigs and doing mother roles!"
Mum's not the word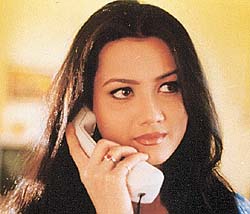 Nausheen: Acting tough
For some it may be the mother of all roles. Not for 23-year-old Nausheen Sardar Ali aka Kkusum. It has taken a lot of guts to stand up to Ekta Kapoor and say the role that brought her so much fame no longer suits her as her character has grown by a matronly 18 years.
For Nausheen, the serial's fast forward act has been hard to swallow—-an act which has transformed this young and bubbly star into a mother of a teenager.
"I couldn't relate to it. Playing mom to a young girl disoriented me and I decided to quit," says Nausheen, who's now been replaced by lookalike Manasi Joshi Roy the uparwali of Gharwali Uparwali.
Nausheen may not have much work after Kkusum but she is happy about her decision. And her logic is simple. " Look, if I start playing mother at 23 I'll be offered granny roles when I am 30!" And for her future plans? Mum's the word!
Full circuit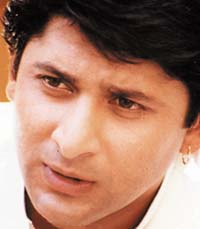 Finally, the circuit is complete. From films to TV and now back to films. Munnabhai M.B.B.S. has put Arshad Warsi on the wishlist of all top film producers.
And not just films. Even on the small screen serial makers are hotly pursuing Warsi. Karishma—The Miracle of Destiny may not be very happening, but it seems to have done wonders for the long-ignored star.
Though offers are pouring in he says he's going through all the scripts with a fine comb. " I've had my share of failures and now I want to do only quality roles."
By the way, is Karishma his idea of quality? " Look the serial has crossed the 100-episode mark and we have a viewership." And his dream role? Doing a really funny chat show. Shekhar Suman better run for cover!
Just joking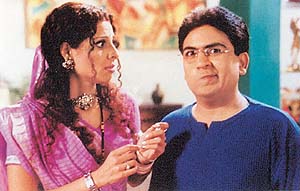 Joshi & Tanaz Currim in Meri Biwi Wonderful: Funny man.
Though Hum Aapke Hain Kaun didn't establish him as a comedian, Dilip Joshi has more than made up for the Bollywood disappointment with his success on the small screen.
For the adorable and rotund Joshi comedy is a serious business. And when he's around there is hardly any dull moment—-whether it is in Meri Biwi Wonderful on Sony or Bhagwan Bachaye Inko or even Malini Iyer both on Sahara.
Not just TV. Joshi is all upbeat about his stage appearances. " Theatre is something that charges me as an actor. My play Baapu Tamhe Kamal Kari is a huge hit."
But ask him about films and he says," My time is completely taken up by TV serials and theatre. More importantly, the work is satisfying. I don't want to pick up insignificant roles in films." And till the model role comes along, Joshi is happy doing his own thing.
Woman in black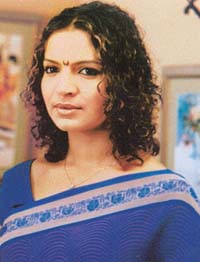 Kawatra: No face-off
First viewers loved to hate her. Now they can't stop laughing. Is Shweta Kawatra the bad girl of small screen is doing a face off and ridding herself of her vampish image? It would seem so seeing her do the comic bit in Uncle Samjha Karo.
And that's not all. She's also hosting a gossip show Current Bollywood and is eyeing the theatre scene. Though Uncle Samjha Karo is her first attempt at comedy she says she's having the time of her life doing it.
But she's quick to clarify, this is no image makeover and there are no plans to say good-bye to negative roles.
"It's a refreshing change. That's all. I just wanted to prove my versatility and am not running away from vampish roles," say Shweta arching an eyebrow and flashing that conniving smile.



— NF