Marriage is here to stay
Ruchika M. Khanna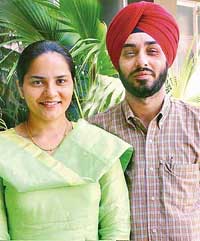 Harkiran Singh and Nirmaljit Kaur Kahlon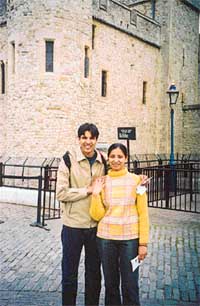 Amit and Monika Bansal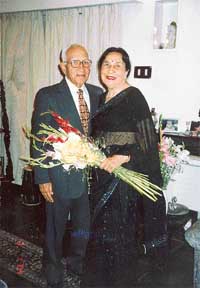 Dr Roshan Lal Chopra and Mrs Sheel Chopra
Marriage may not be such an insipid affair, after all. From the hip 'n liberal 70s and 80s, through the feminism of the 90s and into the happening 21st century, the institution of marriage has managed to survive and evolve.
The new-age marriage still has the old-age value system of caring and sharing, and mush has certainly not been thrown out of the window. Being single has never been the fashion; rather, it is an aberration. Though individualism has crept into today's marriages, wives have become more assertive and the metrosexual husbands are willing to pitch in with the odd jobs at home, the "shaadi ka laddoo" is just as it always was.
For the folks sitting on the fence, weighing the pros and cons of taking the plunge, we draw trace the concept of marriage as it has evolved through the past 50 years.
Explain Dr Roshan Lal Chopra and his 78-year-young wife, Mrs Sheel Chopra, who celebrated their 60th wedding anniversary last month, "The romanticism associated with marriage has been lost as individualism has come in. When we were young, it took us some time to get to know each other. And since we were living in a joint family, we were always looking to steal a few moments together. That is how the bonding grew."
Adds Mrs Chopra, "When my husband went to England for his post-graduation in medicine, I was not allowed to move with him. There were many barriers: telephones were rare, so we could not talk. We would communicate through letters, and, as they say, distance made the hearts grow fonder."
Agree Mr Raghbir Singh and Mrs Swaran Kaur, who say that their love and bonding has only increased over the 53 years since their marriage. "Maybe because the roles of the husband and wife were very well defined, the husband being the decision-maker and the wife accepting her role in home and at the hearth, marriages in our times were more successful. With personality and ego conflicts now being common because expectations are high and none of the partners is ready to make adjustments, the success rate has come down."
He recalls the first time he walked hand-in-hand with his wife in public was in Paris; and that too after a few years of marriage. "For us that was a very romantic moment. Materialism has pervaded every aspect of life, and marriage is no exception," he adds.
But does today's generation agree with the charge that marriage has lost the charm? Well, the old-world charm indeed is lost, but it has been replaced with new-age romance, they say emphatically. Mr Amit Bansal, a businessman and a son of Member of Parliament Pawan Bansal, who has been married for over a year, says marriages have not degenerated, just evolved to suit the needs of today's generation. "Both the partners are now equal. If I expect my wife to do things for my family and me, I ought to help her around, ensuring there is no conflict. On the other hand my wife, who is a typical modern woman, maintains equilibrium between her home and social responsibilities to avoid any conflict. But I strongly believe that arranged marriages are better, as expectations before marriage are few, and after marriage easy to fulfil."
His better half (to use an old-world expression), Monika, agrees: "Most men want their wife to be Durga, Luxmi and Saraswati, all rolled into one, while the wives expect their husbands to make adjustments and help around."
Lawyer Harkiran Singh Kahlon, and his wife Nirmaljit, barely a month into matrimony, say marriage is still about sharing and caring just as it always was. And sharing includes the wife sharing the financial burden and the husband lending a hand in the household work. "Though women have become financially independent and more assertive, we still believe that the value system in marriage has not changed. Even if relatives have only a ceremonial role, and are by and large non-interfering, we believe that one marries the entire family and not just an individual."