M A I N N E W S
Advani seeks decisive, not simple majority
Tribune Reporters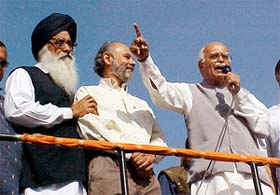 Deputy Prime Minister L.K. Advani addresses party workers in Jalandhar on Thursday as SAD president Parkash Singh Badal and candidate for the Jalandhar Lok Sabha seat Naresh Gujral look on.
— Photo by S.S. Chopra
Jalandhar, March 25
The Deputy Prime Minister, Mr L.K. Advani, today exhorted the people to vote for the BJP for getting a decisive majority instead of a simple majority during the forthcoming Lok Sabha elections to help the BJP-led alliance complete its unfinished tasks.
Addressing a joint Akali-BJP rally during a stopover in Bharat Uday Yatra at Suchi village on Jalandhar-Amritsar road here, Mr Advani, who was joined by Mr Parkash Singh Badal, said that the time had come for the people to ensure a decisive victory for the BJP-led alliance.
Mr Advani, who was cordoned of by police and SPG commandoes, further said the like Indian team's victory over Pakistan in recently concluded one-day cricket series; the BJP would surely impose defeat on the Congress-led alliance in political arena.
Trying to bank upon the anti-incumbency factor, the Deputy Prime Minister said, "I am sure that the people of Punjab will vote for us as they are totally against the Capt Amarinder Singh government for its wrong policies, which had ruined the state during over two years of Congress rule."
In a faux pas, Mr Advani referred to Mr Badal as the Chief Minister of Punjab. He appealed to the residents to vote for Mr Naresh Gujral, an Akali candidate from Jalandhar Lok Sabha constituency and son of former Prime Minister Mr Inder Kumar Gujral.
Earlier, Mr Advani was presented a sword and a robe of honour by Mr Badal and a former Punjab minister, Mr Manoranjan Kalia.
HOSHIARPUR: Mr L.K. Advani, Deputy Prime Minister of India, was given a warm welcome by BJP and SAD (B) workers. Mr Avhinash Rai Khanna state president BJP and nominee from Hoshiarpur Parliamentary Constituency was also present at the rally at local Kamalpur Chowk here.
Mr L.K. Advani said that BJP was contesting the Lok Sabha elections on three issues, good governance, overall development and able leadership.
Earlier, Mr Parkash Singh Badal, who was accompanying Mr Advani, said that there was a wave in favour of Mr Atal Bihari Vajpayee in the country which would be converted into a storm during Lok Sabha polls. Bibi Jagir Kaur, former President, SGPC, was also accompanying the yatra.