Sonia's foreign origin not an issue, says Pawar
NCP manifesto promises fixed term for Lok Sabha
Tribune News Service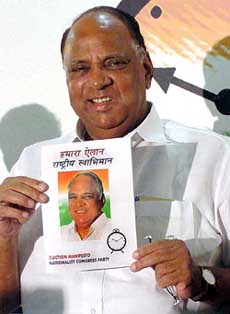 President of the Nationalist Congress Party Sharad Pawar releases his party's election manifesto in New Delhi on Friday. — Tribune photo Mukesh Aggarwal.
New Delhi, March 26
Nationalist Congress Party chief Sharad Pawar today said the foreign origin of Congress President Sonia Gandhi was not an issue for his party in the coming Lok Sabha poll as the Congress itself had stated that the leader of the alliance partners would be chosen after the elections.
"When the Congress itself is not insisting on the leadership issue of the secular front in the post-poll scenario, it is not an issue now. We are with the issue and have not left it," Mr Pawar told reporters after releasing the party's election manifesto here.
Asked whether Rahul Gandhi's entry into the poll fray had raised the question of dynastic politics, he said the Congress alone could not be blamed.
"Why to blame the Congress. Even in BJP, Finance Minster Jaswant Singh's son and Rajasthan Chief Minister Vasundhara Raje's son have thrown their hats in the ring," he said.
However, Mr Pawar said eligible youngsters were contesting. ``If they had been given safe Rajya Sabha seats, I would have called it dynastic politics. In this case all will have to contest elections and people will decide," he said.
Mr Pawar claimed the Congress-NCP alliance in Maharashtra would win the Lok Sabha elections with a big margin. He ruled out any arrangement with the BJP in the post-poll scenario.
In its manifesto, the NCP has favoured a fixed term for the Lok Sabha. Mr Pawar said the country cannot afford the "luxury of frequent" parliamentary elections.
Answering questions, Mr Pawar said his party supported the idea of creating smaller states like Vidharbha and Telangana which were "economically viable." The Congress, alliance partner of NCP in Maharashtra, is still ambivalent on the issue of statehood for Vidharbha and Telangana.
Asked about the possibility of the Speaker of the next Lok Sabha being elected unanimously, Mr Pawar said this would be possible only when all parties agreed on a common candidate.
Mr Pawar indicated that a Congress-led alliance could contest the Lok Sabha elections on the basis of a common minimum programme.