Devastating Sami
Gopal Sharma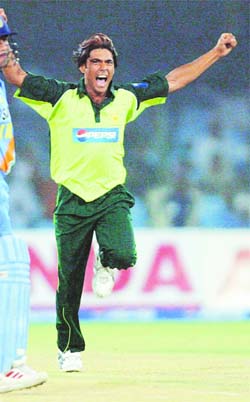 HE may not be as awe-inspiring as burly Shoaib Akhtar charging in menacingly to hurl a "thunderbolt" at a batsman. He is also not as athletic and enthusiastic as Brett Lee of Australia but when it comes to hurling the ball fast or changing the course of the match, he has proved no less effective.
If legendary fast bowler Imran Khan rates him the most promising fast bowling prospect in the world, he is sure to be among the most talented pacemen on the horizon. Though on the international scene for the past couple of years, Mohammad Sami got a permanent slot in the Pakistan team only after peerless Wasim Akram called it a day and Waqar Younis, nearing the end of an illustrious career, failed to find a berth in the squad.
Former captain Imran Khan was so convinced of Samiís abilities that he made it known that the promising fast bowler should have been there in the 2003 World Cup squad. Sami has been denied due recognition in international cricket due to the towering presence of Shoaib Akhtar, deemed the fastest bowler in the world.
When in groove, 23-year-old Sami generates pace that even the best batsmen are not comfortable with. New Zealand skipper Stephen Fleming will readily testify to the fact, his team having been at the receiving end of the damage done by Sami.
In a sudden devastating burst of fast bowling, Sami sent four New Zealand batsmen back to the pavilion in one over without conceding a run in second one-day match in Lahore during the recent series. In the next over, he claimed another wicket to wrap up the innings. The five-wicket haul in the space of 11 deliveries hurtled the hapless New Zealand team to an unexpectedly quick 124-run defeat! Sami became only the second bowler in the history of the game to get four wickets in the same over. Pakistan made a clean sweep of the one-day series and Samiís contribution was significant.
Sami again ambushed New Zealand batting in the second Test in Hamilton. Kiwis were 100 runs ahead after notching up a mammoth 563 in the first innings. An inspired Sami abruptly changed the course of the match. Claiming a five-wicket haul, he reduced New Zealand to 52 for seven in the second innings to put Pakistan in sight of an unexpected victory. Rain eventually intervened as the match ended in a draw. "We donít get exposed to 150 kmph inswingers that often," conceded a candid Fleming after losing the two-Test series.
Indian batsmen would do well to guard against any complacency, while playing the likes of Sami in the three-Test series to begin in Multan from March 28.
In the historic one-day series in Pakistan, Sami took time to settle down. He along with Shoaib Akhtar, was a bundle of nerves in the first one-dayer in Karachi, where he failed to come into his own. Initial anxiety over, Sami showed what he is capable of in the second one-dayer at Rawalpindi. He did a fine job for skipper Inzamam-ul-Haq, claiming three wickets, including those of in-form Rahul Dravid and V.V.S. Laxman, to help Pakistan level series 1-1.
An inspired Sami was invariably quicker than Shoaib in the third match in Peshawar. Though he remained unlucky, he made Indian batsmen hurry through their strokes. Unleashing stinging bouncers, he made the batsmen look ungainly.
Sami figures prominently among the select group of tearaway quickies like Akhtar, Lee and Shane Bond, who, when in rhythm, are capable of reaching scorching speed of 155 kmph. Samiís slender frame is unlike a fast bowlerís. He has a nippy outswinger, a well-directed bouncer and a toe-crushing and reverse swinging yorker in his armoury and can be dangerous on his day. No wonder, Imran Khan rates Sami, lanky Shabbir Ahmed and Shoaib Akhtar future of Pakistan pace attack!