Punjabi Antenna
Hidden poetic charms
Randeep Wadehra

IF you thought that the late Gurmukh Singh Musafir, and now VP Singh and Atal Bihari Vajpayee have been the only politician-poets around, think again. Punjab has a talented politician-poet too. Want a clue? Recently she gave Capt. Amarinder Singh a touch of insomnia with her not-so-poetic tactics. Yes, she's Rajinder Kaur Bhattal. Never thought that the battle-scarred veteran of rough 'n' tough Punjab politics has a sensitive side too! This was brought to light by Sidhu Damdami in the walk 'n' talk show Khariyan Khariyan. Damdami, in fact, has interviewed a wide range of personalities – politicians, bureaucrats, technocrats et al. He does his homework well, as is evident from the incisive questions he puts to the interviewees. However, occasionally, he soliloquises for too long and one may mistake him for being the show's guest.
This time the Punjab Mail stopped at Ludhiana. Manpreet's simple posers, like what's the full form of MLA, stumped some apparently educated Ludhianvis, though someone finally did answer correctly. Why are people embarrassed about speaking Punjabi? A lady who'd spent the better part of her life in Assam had no such problem, but those who were born and brought up in the city seemed eager to display their fluency in Hindi or English. On a Punjabi channel, you expect the discussion in Punjabi, although a few English or Hindi expressions can creep in. But how do you react if the anchor's queries in Punjabi are answered in Queen's English? Perhaps Vikram Seth – not the famous poet and author but an educator who was interviewed on Lashkara the other day – would like to throw some light on this oddity.
Recently one watched the interview of an accomplished painter and poet Sohan Kadri, who lives in Europe (Punjabi Darpan, DD National). He talked of his childhood in a village near Phagwara and how he managed to get educated despite unfavourable family circumstances. He graduated from Shimla and specialised in the Kangra school of painting. He was able to eke out a decent living in the West by selling his paintings. When asked how he managed to sell his works in the Occidental market, he retorted that the people there bought his stuff because it was good and not because they were his kin (chache de putt) – a telling, though unintended, remark on conditions back home.

Eye-catcher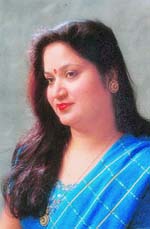 Dimple: A versatile actress
"I don't need glycerine for tears," says Dimple with quiet confidence. A stage actress and an award winner for her role in Hamari Bahu Alka, Dimple's performance in Punjabi serials such as Tootan Wala Khu, Baba Balaknath de Karishme and movies Jee Ayaan Nu and Nalayak etc has also not gone unrecognised. At present, she's anchoring DD Jalandhar's Jhil Mil Tare, and is doing a lead role in DD's seven-episode serial on AIDS, which is under production.
Dimple's work in Apne Begane (Lashkara) fetched her several other offers like Patake Tha! and Sarhad for Alpha Punjabi, and Chandigarh Campus for Lashkara. This versatile actress has also featured in about 20-odd music albums like Joban and Baraat and done ad films, and short films for social awareness like Kanya Bhrun Hatya.
Her favourite directors? "All, since I learnt a lot from each of them." And co-artistes? "They've been good to me, and I like them all. No problems!" Her ambition? To act with Jaspal Bhatti.