Touch that soothes victims of violence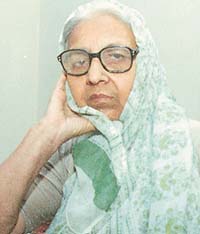 Vimla Dang
"MY mission is to struggle for establishment of a just society, a society which gives an equal chance to its men and women alike," says 76-year-old Vimla Dang. Born on December 26, 1926 in a middle class Kashmiri migrant family in Allahabad, she alongwith all her siblings joined the Progressive Movement at an early age, becoming activists of the Friends of the Soviet Union Organisation. Ever since that headstart as a social activist, she has been working incessantly for the betterment of society and its inhabitants. Sometimes by trying to change the thinking of people, sometimes trying to change their circumstances through practical action. Even while she was a college student in Lahore, she went to Chittagong (West Bengal) and raised large sums of money for famine relief. In 1952, she married well-known social activist Satya Paul Dang and shifted to Chheharta, Amritsar. There, she organised the women's movement and actively participated in the trade union struggle in collaboration with her husband, fighting for the rights of the downtrodden and helping them to live a respectable life.
She was felicitated with the Padma Shri by the President of India for her social work. She has even been to jail several times. For sometime, she has also worked as a teacher in a private college in Amritsar and was a correspondent for Blitz and New Age for a few years. She was elected to the Punjab Assembly in 1992. Even today, her struggle has not stopped in spite of her frail body and hearing problem. At 82 and 76 respectively, both husband and wife have continued to conduct their regular relief activities through the Punjab Istri Sabha Relief Trust and Aruna Asaf Ali Trust to help families of victims of terrorism, handicapped, the poor and the downtrodden.
Recently, she spoke to Divya Aggarwal at length on various issues:
On the status of women in India:
Women's status can't change without a revolutionary change in the society. This can be achieved through continuous campaigns and joint endeavours. Though we all presume that such a change is not possible, on the contrary, such a change is possible as demonstrated by World Social Forum in Mumbai, where men and women of all shades and opinions assembled in thousands in January this year.
Even today, it's a man's world and it's the women who will have to come forward and raise their voice to make their presence felt.
On the Womenís Reservation Bill in Parliament
The Bill, if it gets the clearance, will be a great step towards giving equal opportunity to women in governance. Thirtythree per cent reservation for women in panchayats and local bodies has brought in about 10 lakh women in these areas. But this reservation is being denied in our Parliament. Unfortunately, women have occupied only 8 per cent of the total seats in Parliament. Itís sad that in spite of being the largest democracy in the world, India lags behind in such basic issues.
On being asked how the Bill can be passed, she says, "Change can be brought if the ruling party joins hands with the Samajwadi party, RJD, Shiv Sena, Congress and Left parties. That way they will get two-thirds majority in Parliament and then it will facilitate the clearance of the Bill.
On her social service activities:
Talking of social service always reminds me of Jawahar Lal Nehru's words,
"The best patriots in my opinion are those who feel the urge to do something practical for suffering humanity". The ideas of patriotism and social service were instilled in me during our school days in Lahore in the early 40s by the effort of Sarojini Naidu, Mrinalini Chattopadhyaya and Suhasini Jambhekar.
In 1943, Bengal plunged into a manmade famine when lakhs of people were dying of starvation and disease and women were forced to sell their honour for a morsel of bread, we went there to express solidarity to those people and raised money for the Prime Ministerís Relief Fund. Then in 1946, we worked hard to help the victims of widespread Hindu-Muslim riots in Mumbai.
After my marriage, I settled in Chheharta, the industrial suburb of Amritsar. In 1965, Chheharta was heavily bombed by Pakistani invaders on the last day before cease-fire. The whole place was strewn with dead bodies. At the break of dawn, a group of social workers including myself stood amidst shambles in Chheharta bazar to collect funds to cremate the dead bodies.
After I was elected the President of Chheharta Municipal Committee, we conducted free eye camps and rendered medical aid to the poor and needy.
On work done as a patron of the Punjab Istri Sabha:
As organisers of Punjab Istri Sabha, we took up scores of cases of social oppression, fought atrocities against women, helped settle matrimonial disputes and tried to get old age and widow pensions. The most notable work done by our organisation was to help terrorist violence victims.
As early as 1986, the Istri Sabha started helping innocent victims, the wounded, injured and maimed by bullets in indiscriminate shootings, massacres and bomb explosions by terrorists. We collected funds, and also shawls, sweaters, clothes and utensils to help those people. We helped to rehabilitate them through scholarships and stipends to children for study and to those who have lost the earning members of their family. Eminent people from all walks of life have been coming forth with help and support. We have also given cash awards to women who resisted terrorists. Relief is collected and disbursed irrespective of one's religion, caste and creed.
On her marriage:
My marriage to Satya Paul Dang is different from usual matrimonial arrangements in the sense that we are equals in all sense. We are both working in our respective fields outside home, and when at home, we share domestic responsibilities like equals too. He has taken more than his share of responsibility for domestic work as I am unable to attend to certain things because of health reasons.
Issues the country is facing:
Labour issues are one of the basic issues we need to handle today. There is very less percentage of women and adolescent girls who are employed in the organised sector. They are overworked and underpaid as are child labourers.
Communalism is yet another burning issue in this seeming secular nation. This was well demonstrated through the Staines murder case and the carnage in Gujarat where thousands were looted, killed, burnt and raped.