'ART AND SOUL
Transforming nature
B.N. Goswamy
Art is a subtle essence. It is not a thing of surfaces, but a moving spirit...
— George Inness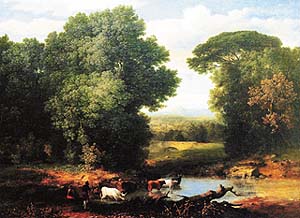 'A Bit of the Roman Aqueduct' by George Inness. 1852
IN the rushed, clattering pace at which virtually the whole of America hurtles on today, it is not easy to imagine a world when, in this very land, things were quieter, and the wheels of thought moved noiselessly. And yet there are reminders of those times. The works of George Inness (1825-1894), the 19th century painter, for example, whose 'Visionary Landscapes' - this is the title under which 40 of his paintings are grouped in a special showing at the San Diego Museum of Art--I find myself being drawn into each time I enter the galleries. His was, and is, another world. In that, Nature was purer. It entered people's lives differently, spoke to them in another tongue, moved them in a manner that few can comprehend today. Thomas Cole, one of the pre-eminent figures in what has been called the "first coherent school of American art" - the group of Hudson River painters - said: If nature were untouched by the hand of man, then man could become more easily acquainted with the hand of God.
Inness was a painter of nature, but also a member of that fraternity of thought in which mid-19th century America was so rich. Adrienne Bell's fine monograph on him, which also serves as the catalogue of this show, lands one squarely in those times. For without brushing against their grain, feeling their texture, one realises, it is not easy to enter Inness's work. Philosophy, psychology, mathematics, mysticism, theology are all there, as are great men like Emerson, Thoreau, Whitman. And the figure of the Swedish thinker, Swedenborg, which loomed over the minds of so many men of those times. In the area of painting, there were many at that time that rendered nature in all her majesty, like the painter Durand who, in his 'Kindred Spirits', depicted himself, together with Cole, on a rocky promontory looking at the scene before them: the gorge with its running stream, the gossamer Catskill mists shimmering in a palette of subtle colours, framed by foliage, and the two friends, tiny little figures, appearing as if elevated by the grandeur of the landscape around them.
EARLIER COLUMNS

Cultural flavours of Varanasi
March 7, 2004


Of dreams & diverse images
February 22, 2004


Portrait of a photographer
February 8, 2004


The curling roots of time
January 25, 2004


Looking at medicine through art
January 11, 2004


The uncertain world of valuation
December 14, 2003


Seasons of longing
November 16, 2003


Greed in the land of antiques
November 2, 2003


Of elegant walks & sculpted silks
October 19, 2003


Pattern-drawers of Benares
October 5, 2003

Like an inch worm
But representing nature was one thing: its contemplation another. Inness was to discover, and assert, this in his work. Like Albert Ryder, his contemporary, he felt greatly drawn to the mystical; like him, he could have described himself as "an inch worm" at the end of a leaf or twig, "trying to find something out there beyond the place on which I have a footing." While staying within the realm of the profane, Inness aspired to the sacred in art, Bell says.
It is possible to trace the development of some of Inness's ideas through the works on view. There is that early work of his, for instance, done in 1852: 'A Bit of the Roman Aqueduct'. Made under the influence of some of the early French landscape painters, and evidently of Constable, it has the informal setting that so characterised the work of masters like Millet, the exploration of subtle tonal harmonies, the 'liquid freedom'. But he wanted eventually to move beyond that: towards 'a bigness of grasp'. This started taking form, in his mind, when he moved into the ambit of ideas and doctrines that Swedenborg, the mystical thinker, had presented in his New Church. Theology came in ("This is the only thing except art which interests me", Inness wrote once), and there was a move towards 'spiritual space'. Fifteen years after he painted the Roman Aqueduct, Inness painted one of his most discussed works: "The Valley of the Shadow of Death". In it, above an enormous eddying, cavernous structure of rocks and clouds, a great space opens in which the cross is seen shining. But, in a curious kind of way, it is not a 'religious' painting. It is an endeavour "to convey to the mind of the beholder an impression of the state into which the soul comes when it begins to advance towards a spiritual life `85."
It may not be easy to perceive, and to comprehend, all that Inness was doing in his work. But, with all the overlay, and the underpinnings, of mysticism and theology, Inness made a great impression, simply as a painter of nature, upon the generation to which he belonged. There were those who felt that he "brought us into communion with the splendours of the sky, `85 the mystery of twilight, the witchery of the moon, and the very secrets of the air"; others who felt, more plainly, that his 'Moonrise', painted in 1888, "will remain one of the great Moonlight pictures of the world". His 'The Monk' may not strike everyone as marking the edge between the sacred and the profane, or the ephemeral and the eternal, as has been asserted. But, even at a purely physical level, it remains a stunning picture, with its silhouetted pine bowers, and sharp, amplified contrasts of warm yellow-orange and deep brown tonalities. Standing at one point in the fields, Inness seems to have taken the sight of nature in; standing at another in his mind, he seems to have gone ahead and transformed it.
An elusive figure
Inness emerges from what reads about him essentially as an enigmatic figure: thoughtful and impulsive at the same time, given to long periods of quiet contemplation and then, suddenly, plunging into things with great emotion. But there is a photograph of his, taken somewhere in the 1870's perhaps, that catches something of his true nature. In this he appears dressed up as Hamlet, wearing a woollen cloak, holding in the right hand a skull upon which his gaze is fixed. The skull is clearly "the memento mori, archetypal symbol of fragile, mortal life", as Bell remarks.
Perhaps, in this moment, when the photographer's light blazed and an image was imprinted on the albumen surface, she says, Inness sensed an equally illuminating recognition: his kinship with the Prince of Denmark.
This feature was published on March 21, 2004