Gospel of the Devil
Kamaldeep Kaur Toor
The Black Book
by Aabid Surti. English Edition, Mumbai. Pages 172. Rs 150.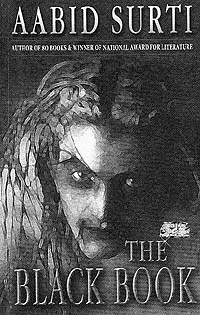 HUMAN beings have always been fascinated with evil and the darker aspects of existence. It is this fascination that informs the best works of literature. Marlowe's Doctor Faustus barters his soul to the Devil for absolute power. Milton portrayed such an enigmatic image of Satan that he was labelled "of the Devil's party". This book also offers a radical shift in perspective from conventional morality and ethics. It suggests an alternative way of life and beliefs that deviate from the established codes of conduct.
The central character is Yam-Zalal—the son of the Devil. Consequently, when he grows up, he begins to preach the Devil's gospel. He advocates licentiousness, incestuous behaviour and drunkenness with great zeal.
He preaches freedom from all religious and moral restraints and also leads people to believe that human beings are free to fulfil all their secret desires howsoever perverse these may be, advocating revenge and cannibalism with his flawless logic and great powers of oration.
In short, he subverts the values encapsulated in the Bible and his philosophy is presented in The Black Book. He claims that it was Satan who actually revealed to Adam and Eve their true destiny, which even God had concealed from them. In this way, Yam-Zalal upsets traditional modes of behaviour and incites the people to revolt against the kingdom of God and establish the kingdom of Satan.
Eventually, he successfully establishes this kingdom of Satan with his zealous followers. Thereafter, he is hunted and crucified much like Christ. The question that the author posits is: "Who is the real messiah?"
The book is written in Biblical style using the same structure, style and language, but it retains the simplicity of expression. The character of Yam-Zalal overpowers everyone. His towering personality and charismatic oration make him unforgettable.
His life runs parallel to the life of Christ in all aspects from birth, travelling and teaching the gospel of hatred, healing the sick and performing miracles, betrayal by one of his own followers, crucifixion and finally Christ-like resurrection. Like Christ, he makes not only many followers but also many enemies.
The book leads us to believe that there is delight in evil and exultation in cruelty and crime. This heretical group is full of pride, restlessness, temerity, egotism and daring. The book makes interesting reading because it explores the dark psychological aspects of the human mind, which leans tantalisingly towards evil.
When asked about the book's intention, Surti replied that through this book, he wanted to question the "blind followers of every religion; to provoke doubt". The book, however, is blasphemous even by modern liberal standards. The advocacy of wilful sinning and intense selfishness is difficult to accept. Though the author has presented a plausible alternative way of life, the average reader will treat it with scepticism.