Short takes
For those who dare to dream
Randeep Wadehra
Life and Dreams of Kalpana Chawla
by Gurdeep Pandher. Unistar, Chandigarh. Pages 162. Rs 180.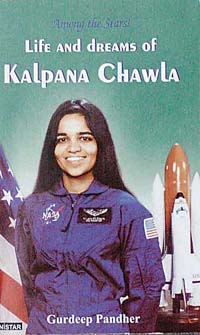 IF you want to wear a crown of success, you have to have a dream, for realising which you need, among other things, self-belief and dollops of grit. Icons usually dream unusual dreams. They tend to be different, consciously striking out on a path that's sparsely tread, if not altogether virgin. Admittedly, becoming an adulated idol is not in one's hand, but becoming a trailblazer is, as has been driven home tellingly by Kalpana Chawla, the small town girl, who literally touched the skies.
Born on July 1, 1961, in Karnal, Kalpana completed her schooling from the town's unpretentious Tagore Bal Niketan School. Right from childhood she fantasised about flying and airplanes. She took immense delight in watching the star-studded sky. Since she was a brilliant student, and interested in science, she took up Aeronautics Engineering at Chandigarh's Punjab Engineering College, overcoming a lot of gender-based prejudices. Firm support from her siblings and her own resolve, not to mention her husband's unstinted support later on, saw to it that she realised her dream. Rest, as we know, is history with tragic denouement.
Pandher has done a lot of research to come up with this tome. It's well written, tracing Kalpana's family roots, her childhood and her ascent to immortality. The chapters are short and interesting. Information provided by him is pertinent even as he sculpts the legend of the real-life space heroine with due diligence. Recommended for reading, especially for girls who dare to dream.
The Internet: A Writer's Guide
by Jane Dorner. Unistar. Pages 196. Rs 170.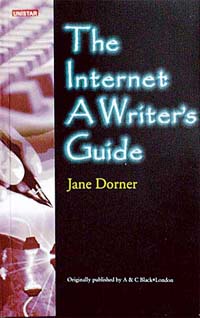 THE Internet has come a long way from being a restricted and "safe" communications network in the cloistered world of the US security agencies, to develop into a global medium for interaction. Among the countless spin-offs of this technology has been the enabling of writers to give full vent to their creativity. In fact, EM Forster had anticipated the advent of connectivity in his short story The Machine Stops, which was published in 1909. Of course, he didn't eulogise the technology but looked askance at its social ramifications.
However, the Internet is certainly a boon to writers in more ways than one. Researchers can surf the Web, with its myriad websites, for relevant inputs. It's a great source of information regarding opportunities for selling one's skills in different markets. So, you can not only contact publishers of poetry, fiction and non-fiction across the globe, but also join various online writers' & poets' clubs and literary circles. This enables you to keep in touch with the latest developments in the world of writing, and thus hone your skills.
Dorner introduces you to web publishing, multi-authoring, journalism, interviewing by e-mail etc. You'll also come to know about e-newspapers, cyber rights, hypertext, interactive fiction & poetry and much else that's good and wholesome for the intellect. If you nurture dreams of becoming a successful writer, this handbook can help.
Writing Sitcoms
by John Byrne & Marcus Powell. Unistar. Pages 171. Rs 165.
SITCOMS or situational comedies are one of the most popular forms of television entertainment. However, you must've noticed that not all sitcoms make you laugh. Some evoke a chuckle or two, some a polite simper and others long, rude yawns. Obviously, there's something wrong with the end product, but what exactly? Acting? Direction? Camerawork? These are the most preferred scapegoats. One often fails to notice flaws in the plot, the script or the screenplay.
Writing comedies is no joke. It becomes all the more difficult when one has to churn out episode after episode. One tends to empathise with the writers of Frasier, Everyone Loves Raymond or our own Hum Paanch, Office-Office etc.
Byrne and Powell introduce us to the basics as well as finer points of writing sitcoms, like conceptualising plots, dialogues, scenarios etc. Then they go on to acquaint us with the art of writing the first draft, revision and the final draft. They also give tips on how to sell your script to various markets. Dreaming of becoming a hotshot serial writer? This primer's for you.
Writing for Magazines
by Jill Dick. Unistar. Pages 198. Rs 170.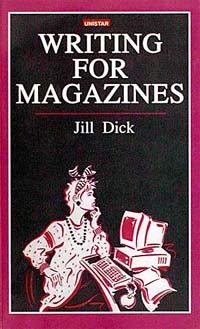 THERE are all sorts of magazines available in the market: polemically political, strongly sporty, intensely analytical, glitzy-n-gossipy, ponderously highbrow, pompously preachy, earnest about automobiles, solemn about sciences, agreeably entertaining or pertinently professional, you name them, you have them. This opens up lucrative possibilities for writers. Writing for magazines requires specialised skills and knowledge. One needs to have a thorough understanding of the relevant subject, develop an interesting writing style and be sure about the type of magazine to send one's articles to.
You must analyse whether your craft is better suited for children's magazines, or publications devoted to hobbies, interviews, international events or domestic issues. Since magazines in English are published all over the world and these cater to various interests you do have more than an even chance to get published.
Dick has dealt in detail with such topics as surveying the field, ideas, markets, structure and style, research, overseas markets, interviewing, presentation etc, providing a separate chapter for FAQ.
It's a good guidebook for those who're itching to become columnists.