Storm in the USA, clouds over India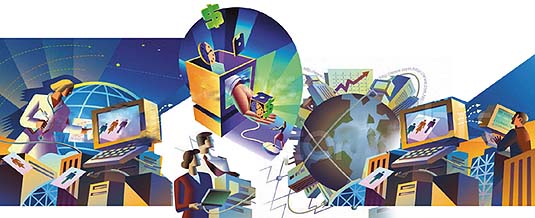 Business Process Outsourcing is no longer an exclusively business activity. As campaigning for the US Presidential elections, to be held later in the year, gathers momentum, it has become a political hot potato. Peeyush Agnihotri gives the backdrop to the debate raging over the offshoring of jobs from the West to countires like India.
WHEN Tim Bernards Lee created the Internet, little did he imagine that his feat would render millions of his countrymen jobless 20 years later. The WWW wired the whole world and, spurred on by free economy ideas, the capitalist-oriented market relocated commercial establishments at places where they made more business sense and profits. For the uninitiated, this concept is termed outsourcing.
"India has done a tremendous job"
ARUN MAHESHWARI is President and CEO of Computer Sciences Corporation India Pvt. Ltd., a 100 per cent subsidiary of CSC. The company has completed 50 software projects in countries across the world. CSC is one of the fastest growing IT companies in India. It has a development centre in NOIDA and another in Indore. Maheshwari is an alumnus of IIT, Mumbai, IIM, Calcutta, Stanford University and Wharton School of Business. Maheshwari gave this interview via e-mail to Roopinder Singh.
In their fathers' footsteps
THE new generation of the music gharanas is ready to take over the mantle. But while striving to live up to their respective father's name, the Gen Y gurus face the daunting task of popularising classical music to a young audience which is getting weaned away by pop and bhangra, says Avinash Kalla
Packaging the past for the tourist
Brij Bhardwaj
HERITAGE, the current buzzword, has become a unique selling point for the Indian tourism industry. All states are in the race to make tourism an engine of growth and use it to solve the problem of unemployment. Not only are traditionally tourist-friendly states like Rajasthan and Kerala in the forefront of this race, but even others like Andhra Pradesh, Punjab, Haryana and Uttaranchal are keen to follow suit.
FICCI Frames 2004
New buzz in entertainment bazaar
Viral Bhayani
INDIA and Pakistan have not only been playing out moments worth framing for posterity across the border. A friendly interchange between the two neighbours also took place closer home, at FICCI Frames 2004, the entertainment bazaar held recently in Mumbai.
A leap to fame
Harvinder Khetal
THIS boy from Punjab is poised for a big leap to stardom in the big bad world of films. Actor Jagmit Samundri has shot into fame with his 35-foot-long leap from atop a building in the Punjabi album, Khadka Darka, in which he plays a Haryanvi Jat. Featured in the Top 10 charts on music channels, the perfect landing by Jagmit, has become a talking point for TV show hosts.