In their fathers' footsteps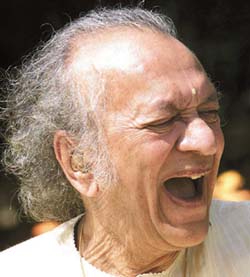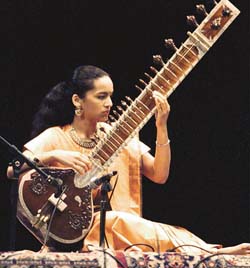 Anoushka…Worthy successor to father Ravi Shankar
THE new generation of the music gharanas is ready to take over the mantle. But while striving to live up to their respective father's name, the Gen Y gurus face the daunting task of popularising classical music to a young audience which is getting weaned away by pop and bhangra, says Avinash Kalla
The strains that emerge from Chandra Kutir on Idgah Road, in Delhi's old city waft above the cacophony of the market sounds. Bageshwari Qamar is readying for her riyaaz: Something the country's topmost woman shehnai player is finicky about. Bageshwari belongs to a rare breed. In a country where men pull the strings as far as classical musical instruments are concerned, Bhageshwari has held stood her ground. The adopted daughter of the legendary Ustad Bismillah Khan, she is busy carrying forward the strains of the shehnai to the next generation.
So are other young people like Anoushka Shankar, Norah Jones, Shujaat Khan, Salil Mohan Bhat, Prateek Chowdhury, Wazifuddin Dagar, Rahul Sharma and Amaan and Ayaan Ali Bangash and many more. They are the most favourite students of some of the best-known musicians. Simply because they happen to be the sons and daughters of these gurus. But besides keeping it all in the family, they are ready to take over the mantle from their respective fathers and carry on the musical tradition of the various gharanas they represent.
Shujaat Khan, son of the legendry sitar maestro Ustad Vilayat Khan, has recently come out with a stunning album titled The Rain for which he was nominated for a Grammy. With this nomination, he became only the fourth Indian composer to be in the list of the most coveted music awards. Being the son of such a musical doyen has its advantages, confesses Khan. You get recognized instantly and you don't have to struggle to get a foothold in the music world. But he says that is not enough to establish you as an artiste. He adds that the father's name can get you a few initial shows but in the end what matters is caliber. "My father has told me that the future of our gharana is now in my hands and I should carry it forward. I am honouring my promise and cnontinuing the legacy of Mian Tansen to whom we trace our lineage," says Shujaat.
Sacred lineage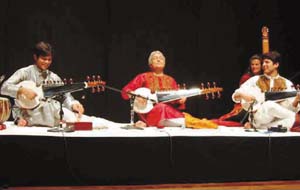 Amaan & Ayaan Bangash: Tracing their lineage to Mian Tansen
Interestingly, even Amaan and Ayaan Ali Bangash also trace their lineage to Mian Tansen, the court musician of Mughal Emperor Akbar. But in their Wrangler jeans and Reebok T-shirts the two sons of Ustad Amjad Ali Khan could be mistaken for any young guys who spend a better part of their day with friends. The two bear the responsibility of carrying the baton of musical tradition that their father has passed on to them. The two are being groomed as the seventh generation of the Bangash dynasty. Their six generations removed forefather, Mohammad Khan Bangash, a horse trader from Afghanistan who frequently came to India, played the rabab and was drawn to Indian classical music. He settled in Rewa where his son, Ghulam Bandegi Khan studied Indian classical music. Bandegi Khan modified the rabab into the melodious and more intricate sarod, which has been passed down the line to Amjad Ali Khan and now to his two sons.
Like Amaan and Ayaan even Anoushka, daughter of the legendary Ravi Shankar, too carries her musical lineage lightly. The young lady is already moving in the hallowed circles of artists, and intellectuals. Not for her the stolen pleasures of late night do's. Her routine comprises eight hours of daily practice to measure up to her father's with whom she does a lot of jugalbandi.
There's plenty of jugalbandi as far as santoor maestro Pandit Shiv Kumar and his 32-year old son Rahul are concerned. The two match each other string for string. Earlier Rahul just accompanied his father to concerts and was one of the many musicians in the background score. Now he has matured enough and delights audiences with stirring jugalbandi performances with his father.
Sitar Maestro Debu Chaudhary's son Prateek too has been giving solo performances. "I am proud to continue my father's tradition which he acquired through a lot of hard work," says Prateek who besides being an accomplished sitarist is also a lecturer at the Delhi University.
Sentimental moment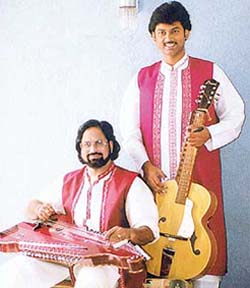 Salil: Following his illustrious father Vishwa Mohan Bhatt (seated)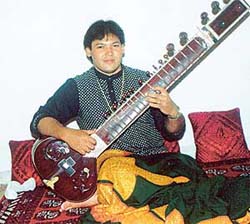 Prateek: Proud of being sitar maestro Debu Choudhury's son



Shujaat Khan…Grammy nomination for this son of the legendary Vilayat Khan
Wasifuddin Dagar's emergence as the 20th generation Dhrupad singer was heralded by tragic circumstances. Though he had been giving solo performances, his father, Faizuddin Dagar's death came as the turning point. Just a few days later he was asked to accompany his paternal uncle in his father's place. Wasifuddin now recalls fondly, " that was the most sentimental moment of my life. It was all due to my father's training and blessings". Salil too thanks his father for what he is today. Son of Pandit Vishwa Mohan Bhatt, the Grammy Award winner of the 1993 album A Meeting by the River, Salil feels being the son of a famous father gives a headstart. Mohan Veena a combination of the Hawaiian guitar and the Vichitra Veena catapulted Vishwa Mohan Bhatt from Rajasthan to world fame. It is now the turn of his son Salil to take over from his father.
However, the 31 years old who was invited alongwith his father for a performance during Musharraf's
India visit is disappointed. Says he, "Though people have been praising my efforts they have started comparing me to my father. They come up to me and say, 'You are good but you are still far behind Panditji. You'll have to work very hard to attain his eminence. "That's being very unfair." However, most of them admit their father's name made things simpler for them vis a vis other disciples, who have had to struggle more to create an identity for themselves. The difference starts from training itself. Wasifuddin feels there is bound to be a difference between a son and a disciple. " While all other of my father's disciples travelled long distances to learn music and after the classes would disappear in the traffic, I lived in that atmosphere the whole day and had all the time with my father."Anoushka says that she was lucky to be born into such a family. And candidly admits she has a definite advantage over others. But then, she adds, " I must have been a worthy daughter to share the stage with my father."
Their devotion to music and to their respective fathers' guidance is unmistakable. Yes, they were initially promoted but today these gen-next musicians can stand tall on their own as extraordinary performers—-all thanks to their dads.
Passing on the baton
Legacy makes a difference in performing arts. Psychologists say that more than the heredity it is the environment that inculcates the urge for music in a young child. When you are constantly exposed to the notes of music in the house, you are bound to be affected.
Salil Mohan Bhatt admits he was drawn to the field of music because of his father. " He always encouraged me but never pressurised me. The choice was entirely my own."
Amaan says his training started at age four. " But when you are born into a musical family, the initiation starts from childhood. When I was a baby, my parents used to sing to me."
Dagar concurs with him, saying, " In the initial years I was not given training but the essential atmosphere. The value of the musical tradition was inculcated in me. The rest I began to comprehend subconsciously. It became a way of life for me".
Admits Prateek Choudhury, " I am sure I wouldn't have got the same thrust and platform which I now have because of my lineage and music. But then you have to be good yourself. Riding on your father's back won't carry you far."
— Avinash Kalla