Packaging the past for the tourist
Brij Bhardwaj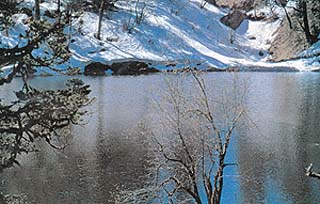 Dodital Lake in Uttaranchal is unspoilt and picturesque
HERITAGE, the current buzzword, has become a unique selling point for the Indian tourism industry. All states are in the race to make tourism an engine of growth and use it to solve the problem of unemployment. Not only are traditionally tourist-friendly states like Rajasthan and Kerala in the forefront of this race, but even others like Andhra Pradesh, Punjab, Haryana and Uttaranchal are keen to follow suit.
The leadership in this drive has been taken up by the Tourism Minister, Jagmohan, who has done much to restore the glory of our historic sites. The Red Fort is getting a new look, the Qutb Minar is opening for climbing, while areas around it have been spruced up. This drive is not limited to Delhi. Jagmohan's sweep is reaching places like Ajanta, Ellora and far off places in India's backyard like the Buddhist circle.
The states in the South have learnt many lessons from the example of Kerala, which has overnight become a leader in tourism promotion. Karnataka too is working at top speed to present Hampi as a great tourist attraction, while not only is Andhra Pradesh sprucing up its pilgrimage route but also presenting new-age attractions like Formula One racing. The results of this drive are becoming visible with an increase in the share of South- bound visitors.
The new players in the tourist circuit are Punjab, Orissa and Uttaranchal. Punjab which has unjtil now been known only for its agriculture, has taken the services of the (INTACH) Indian National Trust for Art, Culture and Heritage to build tourism. The well-known tourism wizard, S.K. Mishra who built the tourism circuit at ground level and promoted the Surajkund Mela as a world attraction for tourists has taken up the task of building three historic cities of Punjab—Amritsar, Patiala and Kapurthala—as heritage sites. It is not a well- known fact that Amritsar receives more tourists than Agra.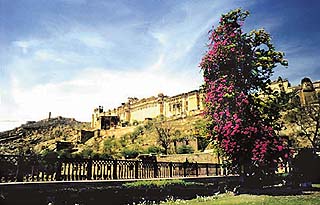 The Ajmer Fort is a living fort and serves as home to many
These three towns with their historic buildings, traditions of music and handicrafts are being provided the necessary infrastructure to attract tourists. Historic buildings like Kila Mubarak in Patiala which were the venue for music performances recently are being restored with the help of international bodies. After having been declared as one of the most endangered sites, Rs 2 crore has been sanctioned by the state government to start renovation. Some money will be raised abroad also and it is hoped that this historic fort will soon be restored to its former glory. The work is also on for restoration of other sites while a case is being made to have Amritsar declared as a heritage city.
In a few places, the heritage sites are being put to use in a bid to preserve them. The alternative use includes conversion of these buildings into museums, hotels and buildings of public use. The Ajmer fort which is a living fort in the sense that 500 families live in it is being provided toilet facilities with the help of international funding so that it could be saved. Work is also on to save many water bodies which over the years were either drying up or had become drains for carrying sewage. Unless we take our heritage seriously and make an effort to preserve it, India may lose attraction for tourists. The definition of cultural heritage is also undergoing a change. There is emphasis not only on buildings, but also on our arts to make it a living heritage. This includes attempts to help craftsmen, painters and musicians of classical school and dancing so that this treasure is not lost for good.
The festivals being organised in different States like Punjab, Rajasthan, U.P and others are an effort to present our heritage to as vast an audience as possible. It was a sight to see thousands of people gathered at different places in cities of Punjab like Amritsar and Patiala and listening to great masters like Girja Devi, Pandit Jasraj and others for hours with full attention. They were also surprised when told by some of the singers that they owe a great debt to grand masters who had established some great traditions of classical music as part of Patiala Gharana. Even the ghazal singer Ghulam Ali from Pakistan owned his debt when he described Patiala as home of his ustaads.
This is not to suggest that everything which is being done is moving in right direction. In many places the Public Works Department has made a great mess of restoration work by their fondness for using cement and plaster. The work of restoration is a difficult task requiring great patience and studies into past techniques and should be undertaken only after all precautions have been taken. One hopes that there will be no messing up with our heritage which, if lost, can not be replicated.
But one can not help but admire that if our monuments become better preserved, surroundings improved, road connectivity created, India will be able to present centres of excellence which can attract large number of tourists and make India into a major destination. no industry has a multiplier effect like tourism.