A leap to fame
Harvinder Khetal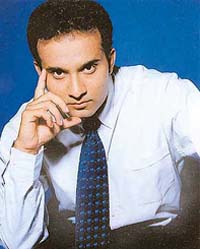 Jagmit Samundri
THIS boy from Punjab is poised for a big leap to stardom in the big bad world of films. Actor Jagmit Samundri has shot into fame with his 35-foot-long leap from atop a building in the Punjabi album, Khadka Darka, in which he plays a Haryanvi Jat. Featured in the Top 10 charts on music channels, the perfect landing by Jagmit, has become a talking point for TV show hosts.
A product of the Mass Communication Department, Panjab University, he always showed a flair for entertaining his classmates with his ready wit, singing and miming abilities. He also compered several festivals and cultural programmes in the university. Little surprise then that after the exams he packed his bags and left for Mumbai, the dream destination of any aspiring artiste.
In a telephonic talk from Bollywood, Jagmit recalled the making of the album, "My shot was okayed in the second take itself by director Rimpy Prince. A retake was necessitated only due to a technical flaw." The ankle sprain he suffered in the process, he remembers, was quickly forgotten in the glow of success following the feat. His gamble of not using a duplicate for the scene paid off as it got him recognition in the industry.
The days of making money by just mimicking a Surjit Bindrakhiya or Jazzy B now seem to be a thing of the past. The Punjabi munda is set for better times.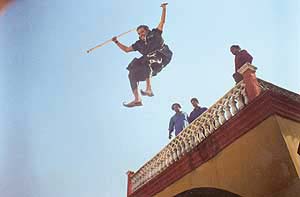 The jumping scene in album Khadka Darka that has brought Samundri recognition
Was it tough to find a foothold in a place choc-a-bloc with star sons and daughters? "Though I was at a disadvantage without anybody to back me in the industry, I was determined to make it on my own, even if it entailed a struggle. In the film industry, it is normal for a nobody to hang around for four to five years before hitting the jackpot," he says.
The important thing is not to lose heart and keep going. Jagmit has so far grabbed any offer that comes his way, be it dubbing for programmes on Discovery Channel or doing voiceovers for animation films on Cartoon Network. He has been doing ads and corporate films too. He has even accepted roles on the small screen. Aap Beeti and Anant on Zee TV and Kya Haadsa Kya Haqeeqat on Sony are some of the serials that have given him a chance to showcase his talent. He also got bit roles in films like Hawaayein.
"The unstinting support of my parents back home in Mukerian encouraged me to carry on despite initial dejection and frustration," says Jagmit.
While assisting Veeru Devgan for Hindustan ki Kasam, he learnt the technique of acting. Post-Khadka darka, Jagmit is excited about upcoming assignments. Rajiv Agarwal has finalised him as one of the main characters for his Punjabi film, Proxy Wedding. "It is a romantic comedy in English ," is all that Jagmit divulges about the movie. Twice a week, he hosts a show, Chitthi.com, on Care TV, a 24-hour channel on health.