TELEVISION
Shades of Chhaya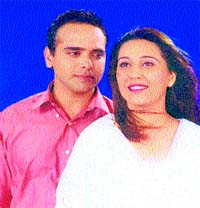 Chhaya and Niki Aneja in Astitva Ek Prem Kahani: Late bloomer
HE'S played Karishma Kapoor's son and Fardeen Khan's father. Hard to believe? Maybe, but for Harsh Chhaya it's all a part of the acting game.
What he's happy about is that with Astitva Ek Prem Kahani he is finally emerging from the sidelights and is all set to take centrestage.
Though his performance in Karishma—A Miracle of Destiny, where he plays Karishma's son, has been well-received, it is the character of Dr Manas in Astitva`85 that is bringing in the adulation that eluded him in Jaanasheen, where he played Fardeen's father with aplomb.
He will soon be seen in Govind Nihalani's much-awaited Dev . "I want to do diverse characters. No repetitions, please," says Chhaya, who's done roles in mega serials like Hasratein, Darar and Swabhimaan. But all those roles were similar.
" Now I am getting into action mode, I don't want to play safe any more." Maybe not. But playing safe has ensured his survival for so long. After all, it's better safe than sorry.
Another for the road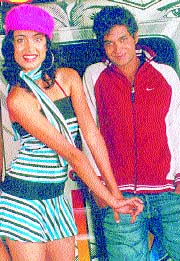 (V) On The Run: Will it run?
WONDER what makes channels imitate each other? Despite the fact that the much-touted Roadies on MTV has been a thundering flop, Channel [V] has gone ahead and done a similar show, [V] On The Run.
VJ Purab along with Anoushka of the now defunct group Viva take a wild and crazy journey across India with an equally nutty winner of the viewer contest, Sarah Jane.
But to be fair, this is a more absorbing show than the MTV Roadies as it explores unconventional locales across the country and looks for the unknown. Besides backpackers, there are artists and musicians to keep viewers entertained.
Though Channel [V] has sky-high hopes from the show, which they are calling a road trip on steroids, it remains to be seen whether it gets the adrenalin pumping in the Gen Y.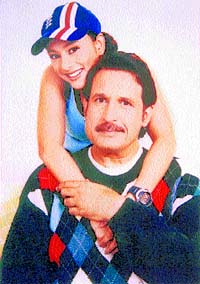 Sai Deodhar with Kiran Kumar in Saara Akash: Versatile star
Reaching for the sky
WHY does playing the tomboyish Monika in Saara Aakash come naturally to Sai Deodhar? Because she started her acting career with Nana Patekar's Prahaar, playing Dimple Kapadia's son.
Over the years, Sai, the daughter of cinematographer Debu and Marathi film director Sharbani Deodhar, has grown into a versatile actor who considers Amol Palekar's Daayra as her first big film.
Curiously, instead of cashing in on the critical success of Daayra she switched to TV, doing cameos in Kachchi Dhoop, Mrignaynee and Chudiyan.
Acting apart, Sai is busy honing her dancing skills. No, not the Indian classical but western dances. " Yeah, I know Kathak and ballet. But western dances are more in demand," says the young lady, who's all set to become the dancing beauty of the small screen.
Just for Jassi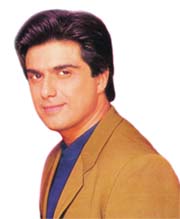 Sameer Soni: The new man in Jassi's life
POST-BAGHBAN, life is certainly a bed of roses for the one-time struggling model Sameer Soni. Today, he is in the thick of action, calling the shots on TV and in films. Now the most famous role has fallen in his lap—-that of Purab in Sony's Jassi Jaissi Koi Nahin .
Even in my struggling days, I was refusing TV offers till Jassi came along. I just couldn't say no to such a juicy role," says Soni, a former student of Barry John who is now all set to become Hero No 1 of the small screen.
Basking in the exposure Jassi has given him, Soni says he'll be looking at other meaningful roles as well. And is looking forward to the release of Pamela Rook's Dance Like A Man in which he co-stars with Ravi Shankar's daughter Anoushka.
And then there's theatre. Soni has to his credit plays like Sundip Sikcaand's Ask What Father Says and Champagne On The House. But no films as yet, "I am very choosy."
If he's so choosy, what made him accept Baghbaan. "It was a chance to play the son of Amitabh Bachchan. Can any actor refuse that?" Certainly not. Especially if the actor nurtures a secret ambition of one day becoming like the Big B himself.
Three's company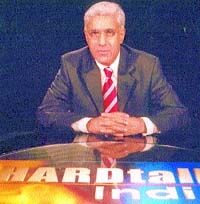 Thapar on Hardtalk India : Host of shows.
KARAN Thapar is on a new high these days after receiving the Asian Television Award for the Best Current Affairs Presenter for Face to Face. Though he's doing Hardtalk India on BBC, as a spin-off for his award he seems to have got Tonight at10 on CNBC.
The acerbic Thapar now falls in the exclusive club of talk show hosts being chased by various channels. The other two members are Vir Sanghvi and M.J. Akbar.
Sanghvi does Cover Story on Star News, showcasing a galaxy of Page Three People, and Veer Ke Teer, also on Star News, where he discusses current issues. He was recently roped in by SAB TV which is launching a 24-hour news channel.
Akbar is happy hosting Darbar on Star News in which he presents an alternative viewpoint on the political scenario. Now he's also presenting Encounter on CNBC.
Thapar, Singhvi and Akbar. Can the channels not look beyond them? It would appear so for the time being. But the slot seems up for grabs for talented newcomers after the poll.