ULTA-PULTA
Two-kid family
Jaspal Bhatti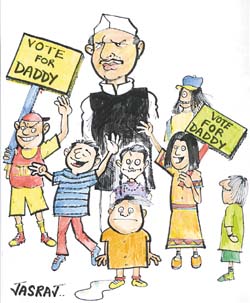 DURING his Bharat Uday Yatra, Deputy Prime Minister L.K. Advani said the implementation of the two-child norm will help the economic development of the country. The very first thought that came to my mind was that he was addressing his speech to the Muslims but to do so at this junctive of elections was politically incorrect. Alternatively, he could also be making fun of Laloo Prasad Yadav who has nine children. But what if Lalooji suddenly decides to help the BJP one day.
Advani will then have to change his stance. I donít see any harm in having even 11 children. The rule should be that if a person has 11 children he should have a right to make his own cricket team and organise a private match with a similar family team in Pakistan to improve Indo-Pak relations.
My friend suggested that Advani should have stated that only a bachelor should be eligible for the post of Prime Minister. The BJPís slogan could run thus: since a bachelor is the least burden on the Indian economy, so vote for Atalji. I told my friend that Advaniji is not a foolish person. He would never give such a statement. In his heart of hearts, he prefers a family man like himself to occupy the PMís chair.